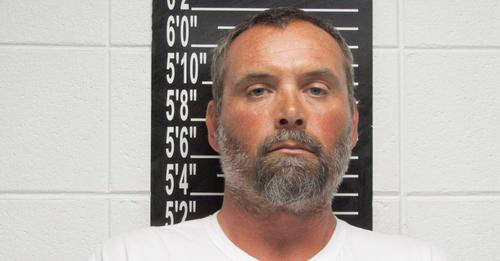 Photo courtesy Stone County Sheriff's Office
A Kimberling City man will be spending the next 15 years in prison for child sexual assaults.
The story below from Jason Wert of the Branson Tri-Lakes News:
Joseph Barton Coffelt, 41, pleaded guilty to three counts of first degree child molestation during a hearing in front of Christian County judge Laura Johnson, who has been assigned to the case out of Stone County following a change of judge motion.
According to court documents, a woman with two daughters was living in the Reeds Spring area, and would often allow her daughters to stay with their grandmother who lived in the area. Coffelt, who was the grandmother's boyfriend, would watch the girls while the grandmother went to work.
In Dec. 2019, the girls told their mother Coffelt would "do some odd things" like telling them to not wear underwear and would touch them on their buttocks.
On Dec. 30, 2019, the older of the two, then 13-years-old, told her mother she had been sexually abused multiple times by Coffelt starting when she was 5 or 6-years-old.
The mother contacted the Stone County Sheriff's Office, who immediately began an investigation with Detective Brian Landreth looking into the allegations. The girls were interviewed by staff at the Lakes Area Child Advocacy Center where the details of the abuse were disclosed to investigators. The grandmother spoke with police and helped them identify locations where the abuse had taken place, and she corroborated much of the testimony of the girls.
The probable cause statement stated seven detailed instances where Coffelt was alleged to have forced the girl into unwanted sexual activity.
The prosecution had been delayed multiple times because of the COVID-19 pandemic before Coffelt pleaded guilty in May 2022.
After the guilty plea, at a sentencing hearing on July 27, Judge Johnson sentenced Coffelt to 15 years in prison on each count to concurrently run. Fifteen years is the maximum sentence under Missouri statute for a Class B felony.
"This has been a long process with the pandemic and all, and that wait is hard on the victims, particularly the children," Stone County Prosecutor Matt Selby said in a statement. "But, in the end justice was served. I believe that the sentence was appropriate for the defendant's actions and the victim's family was pleased with the outcome."