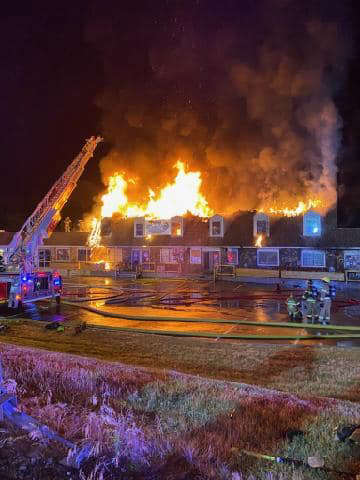 Photo courtesy Kimberling City Police Department
More information on the fire early Tuesday morning in Kimberling City.
A fire early Tuesday morning severely damaged the Buttonwood Center along Highway 13 in Kimberling City.
Southern Stone County Fire Protection District Officials tell the Branson Tri-Lakes News and Ozarks First that the fire was reported just after 1:30 Tuesday morning and appeared to have begun at the back of the building. Four people were in apartments located at the center and all got out safely with no injuries.
Fire units from a half dozen agencies including Branson and Western Taney County helped Southern Stone County Firefighters at the scene with the fire taking two to three hours to get under control.
The cause of the fire is still under investigation.
(Reporting on this story also provided by Ozark Dynacom's JonChristopher Collins, AJ Fahr of the Branson Tri-Lakes News, and Emilee Kuschel and Sydney Moran of Ozarks First)