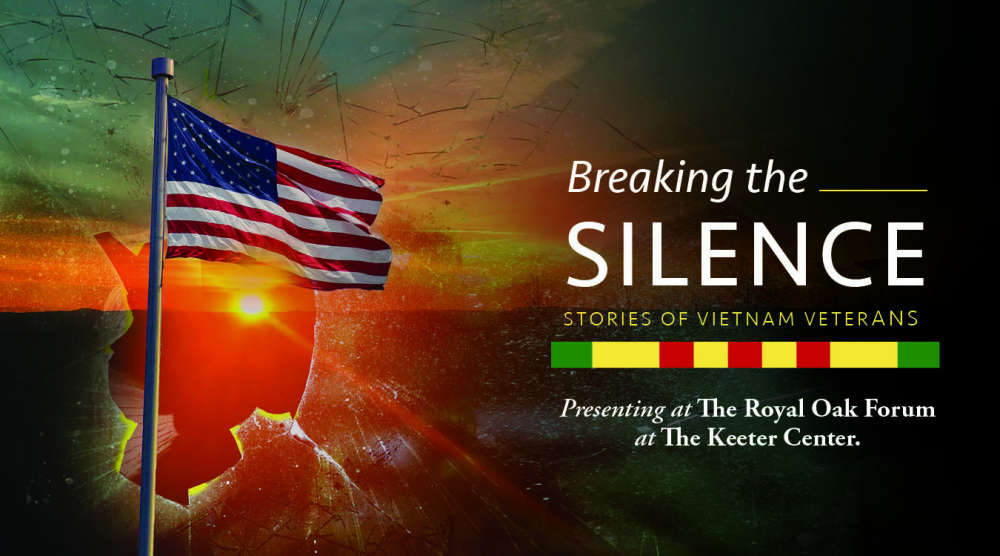 POINT LOOKOUT, MO. — Beginning Oct. 17, College of the Ozarks will present its annual, free, patriotic play. This year's play is "Breaking the Silence: Stories of Vietnam Veterans," and it tells the stories of five heroes, all who have a connection to the College.
This true story chronicles the lives of five Veterans: Army Nurse Lou Eisenbrandt; Army Colonel Tony Nadal; 1st Marine Colonel Bill Duncan, otherwise known as Texas Pete; Colonel Donald "Doc" Ballard, Navy corpsman with the 4th Marines and Medal of Honor recipient; and Sergeant John Ligato, Marine platoon leader. Each of these individuals have traveled with C of O through the Patriotic Education Travel Program.
The showing of a patriotic play is a fall tradition at College of the Ozarks. Performances take place in the Royal Oak Forum, located in The Keeter Center, and are free and open to the public. Tickets are not required; seating is first-come, first-served.
"The stories of our Vietnam Veterans, those who have traveled with us back to the battlefields of Vietnam, will be told through the Veterans' memoirs and reenactments performed by our student performers in the Jones Theatre Company," said Public Relations Director Valorie Coleman. "You won't want to miss one riveting moment. Be ready and prepare your heart for a moment of reflection, healing, and honor as we relive a moment in time with our Veterans."
All performances are open to bus tour groups. Duration of the play is approximately 1 hour and 15 minutes. Groups of 10 or more, call (417) 690-2120 to book lunch and reserve seats for the play.
Play Synopsis
When the Vietnam soldiers returned home, they were not met with parades, explosions of confetti, striking up of bands, cheers of joy, honoring ceremonies … nothing. Breaking the Silence is a play which tells these true stories with the hope that younger generations will recognize the sacrifices of their grandparents, the heartbreaking way American soldiers were treated as they returned home from Vietnam, and the disillusionment of anti-American philosophy which has pervaded our country.
"Out of the darkness of political misguidance from Washington surrounding the Vietnam War are the stories of the men and women who admirably served, shining like the setting sun," said Mark Young, M.F.A., professor of theatre and playwright.
The play is based on the book Vietnam 101, by Dr. Jerry C. Davis, chancellor of College of the Ozarks, and adapted for the stage by Young.
Play Dates — Performances will take place in The Keeter Center's Royal Oak Forum. The play's duration is approximately one hour and 15 minutes.
Show dates for the 2 p.m. performances:
October 17, 19
November 14
Show dates for the 3 p.m. performances:
October 31
November 7, 9, 10, 11
Show dates for the 7 p.m. performances:
October 18, 26
Breaking the Silence 2023 Cast:
Lou Eisenbrandt – Victoria Rivera, sophomore theatre major from Siloam Springs, Arkansas
Tony Nadal – David Rogers, sophomore theatre major from Sedalia, Missouri
Bill (Texas Pete) Duncan – Jacob Priestner, junior speech communications major from Springdale, Arkansas
Doc Ballard – Gage Hauck, sophomore music theatre major from Camdenton, Missouri
John Ligato – Tierce Carmody, sophomore music theatre major from De Soto, Missouri
Cab Driver – Sam Pitts, junior business administration major from Preston, Missouri
Daughter – Makhaila Keown, sophomore speech communication major from Ramah, Colorado
Mother – Kamarae Wilson, junior music ministry major from Springfield, Missouri
Wife – Anna Veit, senior theatre major from Bartlesville, Oklahoma
Narrator 1/Son – Elijah Lyons, senior music theatre major from Rich Hill, Missouri
Narrator 2 – Michelle Crain, junior music theatre major from Hollister, Missouri
Student 1 – Grace Rainwater, junior music theatre major from Las Vegas, Nevada
Student 2 – Emma Walters, junior theatre major from St. Clair, Missouri
Student 3 – Phoebe Ulmer, junior music theatre major from Seneca, Kansas