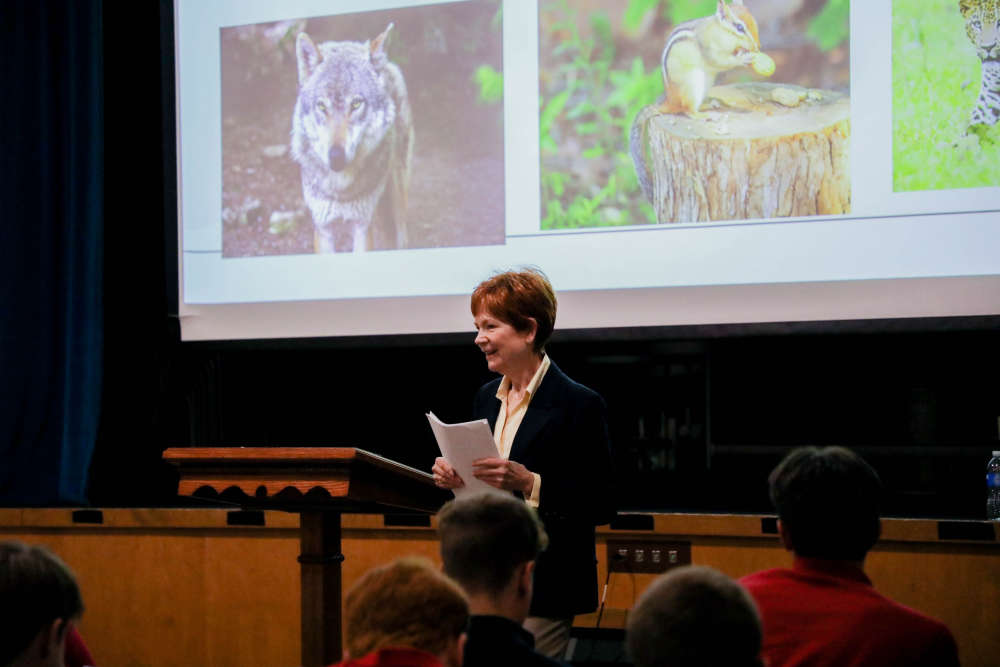 POINT LOOKOUT, MO. College of the Ozarks and School of the Ozarks hosted the Arkansas Poet Laureate Suzanne Underwood Rhodes on Nov. 2. During her visit, Rhodes spoke to students in Associate Professor of English Matthew Miller's college creative writing class. She also spoke to students in Assistant Professor of Literature Amy Martin's high school humanities class.
"We study and admire poetry from great poets and even strive to emulate their styles by writing our own verses. We are also studying Homer's epic poem, The Iliad, this semester. Because of his use of the epic simile, we were especially interested in how Mrs. Rhodes expanded our understanding of the metaphor and simile," Martin said.
Before she became Arkansas Poet Laureate, Rhodes received her bachelor's degree in English from James Madison University, graduating magna cum laude, and her Master of Arts degree from Johns Hopkins University in the writing seminars where she held a teaching fellowship. She taught creative writing and literature at King University and currently teaches virtual poetry workshops through the Muse Writers Center in Norfolk, Virginia, as well as to women residents of the Magdalene Serenity House in Fayetteville.
Rhodes taught poetry, published poetry, and had the honor of accepting the position of Arkansas Poet Laureate in 2022. A native of New York, she lives in Fayetteville, Arkansas, and has published several poetry collections, including the award-winning Flying Yellow. Her poems appear regularly in journals and anthologies such as Slant, Christian Century, Alaska Quarterly Review, Mid/South Anthology, and Image.
Her poems explore personal history and family, the allure of the natural world, the psychological contradictions and complexities of human personality, historical figures, and Christian spirituality.
"In my role as the Arkansas Poet Laureate, appointed in January 2022 by Governor Asa Hutchinson, I have so many wonderful opportunities to share the power and pleasure of poetry throughout my state and beyond, through workshops, readings, and projects, to bring the transformative power of poetry to young and old," Rhodes said.
The above press release is from College of the Ozarks.