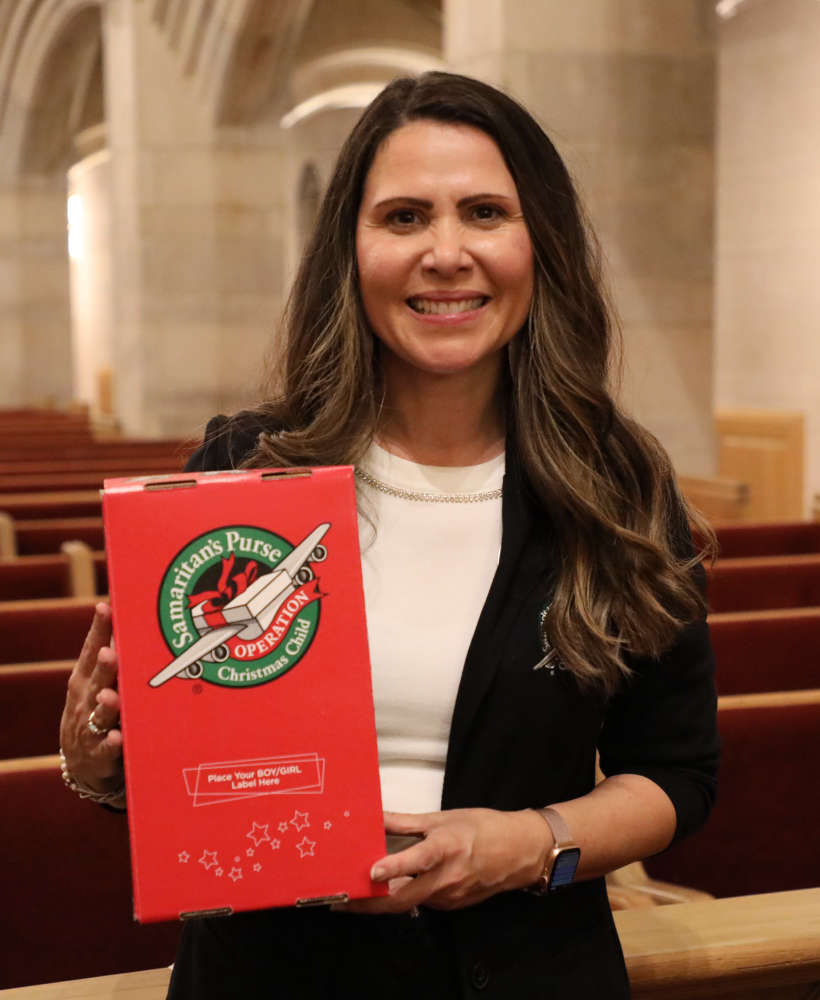 POINT LOOKOUT, MO. — College of the Ozarks hosted Izabella McMillon with Samaritan's Purse on Nov. 9. McMillon shared her story with the students, telling them that she had received a shoebox gift as a thirteen-year-old girl growing up in Romania.
Her freedom was limited, and she often did not have enough food to eat. Her family would receive a dozen eggs that was to last a family of four for a month. She grew up hearing the gunshots of the revolution in her home.
She and her brother found a hidden Bible in their home and started going to a secret church. Once she received her shoebox, she understood God is a personal God, and she started to develop a real relationship with Him. She now teaches in a Christian school where she helps the children pack shoeboxes themselves, so they can be a part of bringing joy to others.
"I am thrilled that College of the Ozarks has the opportunity to be so involved with Operation Christmas Child," said Lori Simmons, community service director at the College. "When a child in need receives an Operation Christmas Child shoebox, they are not just receiving a physical gift but are brought into a Christ-centered community as they learn together about who Jesus is and how he loves them. Knowing Jesus is the greatest gift they will ever receive."
The College also had many packing parties on campus to help students participate in this great ministry. After the convocation on Nov. 7, the athletics department had the opportunity to pack boxes. On Nov. 9, Christian Ministries hosted a packing party for the campus community. It was $5 for students to participate with all the supplies provided.
Dr. Justin Carswell, vice president of Christian ministries and dean of the chapel, has been involved in Operation Christmas Child for many years. He visited Grenada in 2019, where he handed out shoeboxes to more than 800 children at four different churches.
"The ability to help share the Gospel and see the joy and excitement on the children's faces is something you will always remember," Carswell said. "Knowing that we can help bring such hope and love to children who live in dark and harsh realities simply by sending a shoebox is amazing. I want to ensure that we can help students see the impact they can make with just a simple gift."
Sasha Burch, sophomore families studies major, grew up in Ukraine where she received an Operation Christmas Child box when she was eight years old. She went back and forth living between her biological parents until she was 11, then was sent to live in an orphanage. At age 13, she made her first trip to the U.S. where she met a family in Springfield, Missouri, who would later adopt her when she turned 16.
"Last year a friend of mine didn't want to pack a box," Sasha said. "I told him I would pay for the supplies but to just come do it with me. He really enjoyed himself once he got started. It doesn't take a lot of effort to put some items in a box. People don't understand the sheer excitement and joy it brings the children. It may seem difficult to decide what to put in a box but it will mean everything to the child who receives it. That's what I want people to know and understand, these children get excited over the tiniest item. They are not picky; they're just full of joy. Being able to receive anything, even if it's small and simple, is incredibly exciting, especially since it's from a different country. The colors, smells, toys are so new, it's just amazing to have something that is your very own."
NOV. 13 – 20: Drop-off Sites Open for Operation Christmas Child
The Point Lookout drop-off location is in the Christian Ministries Building on the College of the Ozarks campus. Signs will be posted to direct participants to the drop-off.
The Operation Christmas Child drop-off locations will be accepting shoeboxes on the following dates:
Friday, Nov. 17, 8-11 a.m.

Saturday, Nov. 18, 10-1 p.m.

Sunday, Nov. 19, 1-4 p.m.

Monday, Nov. 20, 8-11 a.m.
Anyone who would like to contribute to Operation Christmas Child without leaving home can build a shoebox online at https://build-a-shoebox.samaritanspurse.org/view/1908f310-20b0-45ba-b2b0-0e1b6f91276a
Members of the media may visit samaritanspurse.org/occnewsroom for downloadable resources.

About Operation Christmas Child
Operation Christmas Child, a project of Samaritan's Purse, seeks to demonstrate God's love in a tangible way to children in need around the world and, together with the local church worldwide, to share the Good News of Jesus Christ. Since 1993, Operation Christmas Child has collected and delivered more than 209 million gift-filled shoeboxes to children in more than 170 countries and territories.