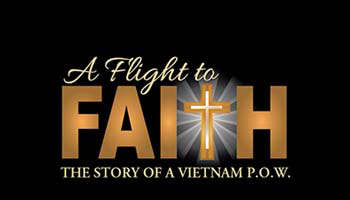 POINT LOOKOUT, MO. — Starting Oct. 4, College of the Ozarks will present "A Flight to Faith: The Story of a Vietnam P.O.W." This true story chronicles the journey of an American hero, Colonel John Clark. The play is produced and performed by students at College of the Ozarks.
The showing of a patriotic play is a fall tradition at College of the Ozarks. Performances take place in the Royal Oak Forum and are free and open to the public. Tickets are not required; seating is first-come, first-served. The College will offer an area appreciation for the first performance of the season on Oct. 4 at 2 p.m. The first 100 in attendance at these performances will receive a special, student-made gift from the College.
Mark Young, professor of theatre, along with several students derived the play from the books, "Vietnam 101: A Class Like No Other," written by former President Jerry C. Davis and "The Eagle Hunts" by Colonel John Clark. The students who attributed to the play are: senior Susie Johnson, music theatre major; 2022 graduate Nicholas Sutton; 2022 graduate Izzy Sutton; and junior Elijah Wolfard, biblical and theological Christian studies.
Play Synopsis
For 2,176 days, Colonel John Clark was held captive in the infamous "Hanoi Hilton" as a P.O.W. during the Vietnam War. He endured starvation, a deadly sickness, and mental and physical torture at the hands of the enemy. To his family, he was reported MIA and presumed dead.
Play dates
Performances will take place in The Keeter Center's Royal Oak Forum. The play's duration is approximately one hour and 20 minutes.
Show dates for the 2 p.m. performances:
October 4, 6, 11, 18, 25, 27
November 1, 6, 8, 13, 15
Show dates for the 3 p.m. performances:
October 15,
November 11, 12
Show dates for the 7 p.m. performances:
October 5
November 8, 10, 12
Cast and Crew
Director/Set Design: Mark Young, professor of theatre
Veteran, performed by senior William Bressler, theatre major from Jonesboro, Arkansas
Molly, performed by senior Anna Brayman, theatre major from Branson, Missouri
Captain John Clark, performed by sophomore Jacob Priestner, speech communication major from Springdale, Missouri
V.C. Officer, Camp Commander, performed by senior Bradley Shelton, theatre major from Rolla, Missouri
V.C. Soldier #1, and Woman, performed by junior Faith Falter, Spanish education K-12 major from Freeburg, Missouri
V.C. Soldier #2, Slew Food, and Protestor #1 performed by sophomore Tierce Carmody, music theatre major from DeSoto, Missouri
Tien, performed by sophomore Michelle Crain, video production major from Fanling, Hong Kong
Valorie and the Veteran's girlfriend, performed by sophomore Emma Walters, music theatre from St. Clair, Missouri
Western Union Man and Colonel Russell, performed by sophomore Michael Brisbin, family studies/ social services: social work major from Wellington, Missouri
Bonnie Clark and Protester #3, performed by senior Dorothie Goode, music theatre major from Vilonia, Arkansas
Howie and Mayor, performed by sophomore Elijah Lyons, music theatre major from Rich Hill, Missouri
Eddie and Woman's husband, performed by sophomore Sam Pitt, business administration: management major from Centerton, Arkansas
Charlie and Protestor #2, performed by freshman David Rogers, theatre major from Sedalia, Missouri
Tom, performed by freshman Josiah Sims, speech and theatre education major from Memphis, Tennessee
Jimmy, performed by freshman Gage Hauck, music theatre major from Camdenton, Missouri
Sylvia, performed by senior Susie Johnson, music theatre major from Des Moines, Iowa
Jane/stage manager, performed by sophomore Phoebe Ulmer, music theatre major from Seneca, Kansas
Mother, performed by sophomore Kamarae Wilson, animal science major from Springfield, Missouri
Sharon, performed by freshman Esther Bolton, family studies & social services: marriage & family major from Elwing, Kansas
Ann Clark, performed by junior Anna Veit, theatre major from Bartlesville, Oklahoma
Lighting design and projections done by Triston Newman
Groups of 10 or more and motor coaches, call (417) 690-2122. For general inquiries, call (417) 690-2929.