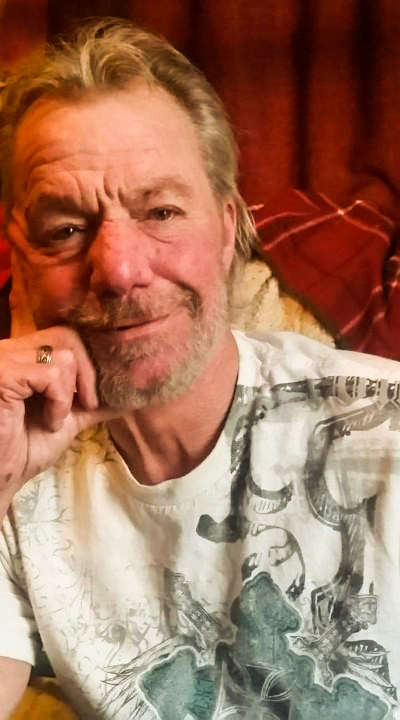 Steven Dwayne Sanderson, age 61, of Branson, Missouri.
Steven Dwayne Sanderson, age 61, of Branson, Missouri, passed away May 5, 2022, at his home with family nearby. He entered this life on December 11, 1960, in Glendale, Arizona, the son of Thomas and Margie (Henry) Hanson. He is preceded in death by his in-laws, Jerry and Donna Janes, and parents. He was joined in marriage January 8, 1988, to Dolly Janes.
A restaurant manager for many years, Steven had many other activities he entertained: rescuing and adopting animals, riding his motorcycle, eating Mexican food, and time on the water. The joy of his life was spending time with his grandchildren. Many memories have been made over the years that will bring smiles to multiple faces when stories are told. He will be greatly missed.
Steven is survived by his wife of 34 years, Dolly Sanderson; four children: Cassaundra Sanderson of Branson, Missouri, Selena (Shane) Coker of Springfield, Missouri, Rhiannon Sanderson of Branson, Missouri, and Dustin (Bobbi) Sanderson of Arkansas; four grandchildren: Ashton Sanderson, Paisley Coker, Rylynn Coker, and Samuel Coker; sister, Debbie Hanson of California; brother, Rick Hanson of Arizona; sister, Holly (Dean) Brown of Rockaway Beach, Missouri; sister, Dawn (Shannon) Reed of Hollister, Missouri; and many cousins, nieces, and nephews.
A memorial service will be held at 1:00 p.m. May 7, 2022, at Cremations of the Ozarks, 115 Industrial Park Drive, Hollister, Missouri, with Chaplain, James Thomas, officiating. Services and cremation are under the direction of Cremations of the Ozarks. To leave an online condolence, please visit www.cremationsoftheozarks.com.