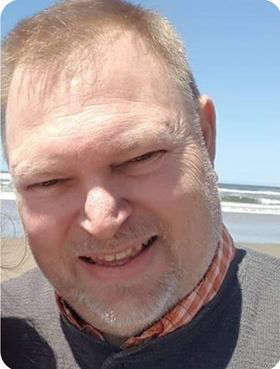 Royce James York, age 56, of Branson, Missouri.
Royce James York, age 56, of Branson, Missouri, passed away on September 12, 2022. He entered this life October 26, 1965, in Tulare, California, the youngest son of Eldon and Arlene (Burgess) York. Royce was preceded in death by his parents. He was joined in marriage on October 3, 2009, to Krystal Rene Snow in Branson, Missouri.
He was a graduate of Immanuel Christian in Reedley, California. After high school, Royce was a part of Young Life before he began his career in camp ministry. He devoted his entire life to serving in ministry through food service where he started as a prep cook and worked his way to kitchen manager/chef serving thousands of meals over his lifespan in the food and hospitality industry, always with a smile and a servant's heart. Royce loved working in Christian camps, where he made lifelong friends and mentored young college kids who worked with him. He started very young at Hume Lake Christian Camp in California; followed by Camp Sugar Pine and Heartland Christian Camps in California. Royce worked at Kanakuk Summer Camps in Branson, Missouri, and Tonto Rim Christian Camp in Arizona. His last place of service was Black Lake Bible Camp in Olympia, Washington where he would love to gather with friends around the campfire for s'mores, or fish with his daughter, and he was always up for a game of cards. Royce loved the old westerns on TV and reading Louis L'Amour. He loved to entertain and fellowship with friends. Royce greatly loved his kids, and the memories they created will be remembered forever.
He is survived by his wife of almost thirteen years, Krystal Rene York; their two children: Colin James York, age 11 and Kaitlyn Rene York, age 9; his sister, Eldeana Ruth (Ron) Huffey of Branson, Missouri; and four brothers: David (Frankie) York of California, Greg (Hoson) York of Washington, Loren (Wendy) York of California, and Avon (Barbara) York of Oregon. Royce is also survived by many nieces and nephews who loved him very much.
A Celebration of Life will be held 11:00 a.m. October 7, 2022, at Woodland Hills Family Church, which Royce considered his home base when in Missouri, https://vimeo.com/event/529167/294722c9e0. Arrangements and cremation are under the direction of Cremations of the Ozarks. To leave an online condolence, please visit www.cremationsoftheozarks.com.