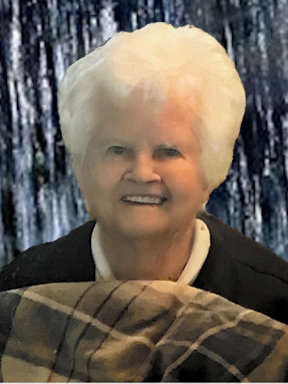 Roberta Lucille Ellis, age 87, of Seligman, Missouri.
Roberta Lucille Ellis, age 87, of Seligman, Missouri passed away Thursday, July 28, 2022 at Roaring River Health and Rehab in Cassville, Missouri.
She was born June 1, 1935 in Washburn, Missouri the daughter of Tif and Mary Pauline (Henry) Cantwell. On February 24, 1955 in Seligman, Missouri she was united in marriage to Jimmy Ellis, who preceded her in death on August 8, 1991. Also preceding her in death were her parents; one grandson, Trevor Coons and one brother, John F. "Buddy" Cantwell.
Surviving are one son, Jerry Ellis and his wife Netta of Seligman, Missouri; one daughter, Cindy Coons and her husband Jeff of Bella Vista, Arkansas; one sister-in-law, Elsie Cantwell of Wichita, Kansas; eight grandchildren, Jared Ellis and Alex Young, Jordan Ellis and Kendale, Jameson Ellis and Courtney, Kaleb Soper and Brooke, Braundon Soper and Allison, Mindi Gates and Justin, Tyler Gripka and Anya and Jessie Rambo and Josh and twenty-two great grandchildren, John Ellis, Jericho Ellis, Jace Ellis, Cali Young, Cason Young, Ryder Ellis, Remy Ellis, Sutton Soper, Juliette Soper, Noah Soper, Lakyn Ellis, Jude Ellis, Simon Gates, Ava Gates, T'Lenn Gripka, Taylum Gripka, Macil Rambo and Maren Rambo.
Roberta grew up and went to school in Washburn, Missouri graduating from Southwest High School. After graduating she and Jimmy lived in Wichita, Kansas for a few years and returned to this area when he was discharged from the United States Army. She loved to travel, work outside in the yard and garden and very much enjoyed her grandchildren and great grandchildren. Being saved at a young age at Washburn First Baptist Church, Roberta loved the Lord and spent much time in prayer for family and friends. She enjoyed sitting outside watching the cattle in the field and she was always whistling a sweet tune. The grandsons brought many friends to her home where they all knew her as Meme. Meme loved each and every one of them.
Services will be held at 2:00 P.M. Saturday, July 30, 2022 at Fohn Funeral Home in Cassville. Pastor Danny Heupel will conduct the services. Burial will be at Roller Ridge Cemetery in Gateway.
The family will receive friends from 1:00 P.M. until service time Saturday at Fohn Funeral Home in Cassville.
Contributions may be made to St. Jude Children's Research Hospital in memory of Roberta.
Visit www.fohnfuneralhome.com for online obituaries, guestbook and private condolences.