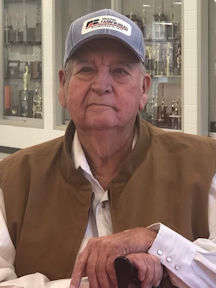 Johnie Neal Hendrix, age 81, Washburn, Missouri,
Johnie Neal Hendrix of Washburn, Missouri, went to be with his Lord and Savior on September 15, 2023. Johnie was born on November 21, 1941, to Osa and Maxine (Day) Hendrix down on Trents Creek west of Washburn.
Johnie grew up on Trents Creek and attended Trents Creek rural school through the eighth grade and then attended Southwest High School in Washburn.
When Johnie was 16 years old he bought a chainsaw. This started a career for Johnie as a logger and sawmiller.
In 1957, a little brown-eyed girl from California moved to Trents Creek and caught Johnie's eye. Her name was Lois Ann Stogdill. They started dating and were married on November 28, 1958. To this union five children were born, Wayne, Bobbi, Gina, Keith and Brian. Lois Ann passed away on October 20, 1996.
Johnie was preceded in death by his parents, Osa and Maxine; his first wife, Lois Ann and two sisters, Fern Hendrix and Patsy Wright.
Johnie later married Louise Slack on April 2, 2009, who survives. Also surviving are five children, Wayne (Jackie) Hendrix, Bobbi Scucchi, Gina (Kerry) Thompson, Keith (Missy) Hendrix and Brian (Leslie) Hendrix; 13 grandchildren, Johnie, Josh, Jessica, Josy, Rachael, Jamie, Jay, Jazmine, Haley, Mason, Dusty, Bryson and Cooper; 13 great grandchildren; a brother-in-law, Donnie Wright and a host of nieces, nephews and cousins. Johnie loved his family and friends and always enjoyed times when everyone was together.
Johnie was saved in his 40's and baptized in Big Sugar Creek.
Services will be held at 10:00 A.M. Tuesday, September 19, 2023 at Fohn Funeral Home in Cassville. Pastor Johnie Wayne Hendrix, Pastor Jason Ponder and Pastor Charles Stults will conduct the services. Burial will be at Roller Cemetery in Washburn, Missouri.
The family will receive friends from 6:00 until 8:00 P.M. Monday at Fohn Funeral Home in Cassville.
Contributions may be made to Hospice Compassus in memory of Johnie.
Visit www.fohnfuneralhome.com for online obituaries, guestbook and private condolences
FOHN FUNERAL HOME
Cassville, Missouri
417-847-2141