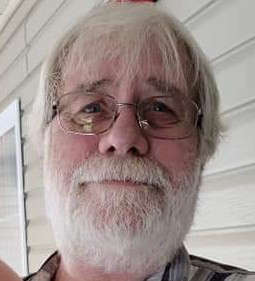 Gene Paul Larsen, age 66, formerly of Lake View.
Gene Paul Larsen, age 66, formerly of Lake View, passed away peacefully in his sleep Sunday, November 21, 2021, at his home in Branson, Missouri.
Gene was born on March 15, 1955, in Atlantic, Iowa to Raymond and Doris Larsen. He was a graduate of Lake View-Auburn Community High School in 1974.
At an early age, Gene worked at a variety of jobs, but ultimately chose to pursue a lifelong career of carpentry and construction. He owned and operated Larsen Construction for several years until 2011 when he moved to Missouri and continued in that line of work.
In 1974, Gene was united in marriage to Sharon (McCuen) Eischeid. They were blessed with three sons and eight grandchildren.
Gene was remarried in 2004 to Beth (Blair) Larsen. At that time, Gene gained three more sons, one daughter, and one grandson.
Gene enjoyed hunting and NASCAR. He also loved to travel to Iowa, to see his family.
Gene is survived by his wife, Beth; sons: Ryan (Nicole), Adam (Jenny), and Kurt (Jana); stepchildren: Ryan, Blair (Paul), Kyle, and Cody; grandchildren: Koltin, Kristin, Katelin, Kaden, Evan, Sawyer, Hannah, Courtney, and Brennon; his mother, Doris; and sisters: Linda (Rick) Howell, Judy (Jay) Chandler, Beck (Mike) Jingst, and Mert (Jim) McNally.
He is preceded in death by his father, Raymond.
Private services have already been held in Missouri with family and friends. Additional services will be held in Lake View, Iowa, at a later date.
Arrangements and cremation are under the direction of Cremations of the Ozarks. To leave an online condolence, please visit www.cremationsoftheozarks.com.