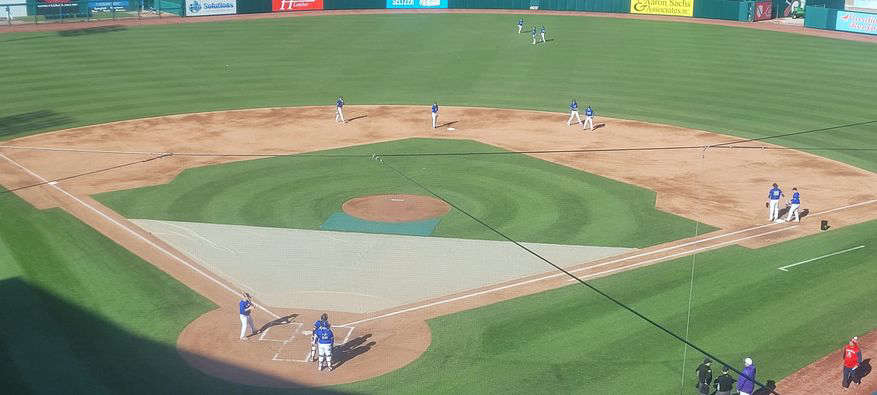 The Hollister Tigers take infield prior to their game against Monett at Hammons Field. (Photo by Perry Phillips)
Among the games heard on MOARK Sports Monday was the Hollister Baseball Tigers trip to play at Hammons Field in Springfield.
The field, recently purchased by the City of Springfield to insure its continued use by the Springfield Cardinals and Missouri State University, also hosts selected High School Games during the season including yesterday's match-up between the Tigers and Monett Cubs. The trip turned out to be a good one the Tigers as they grabbed a 5-3 win. The Tigers are 2-1 for the season entering today's game at Billings.
Also heard on MOARK on Monday was the Forsyth Lady Panthers Softball home game against Diamond. The two teams met just over a week ago at the Mount Vernon Tournament and like last week the Lady Wildcats were able to hold off the Lady Panthers, this time by a 10-5 score. Forsyth hurt themselves committing eight errors in the game which led to seven Diamond runs. The 2-3 Lady Panthers will take on Crane this afternoon in a game that has been moved to Forsyth due to wet field conditions in Crane.
Today's action on MOARK will be focused on the Mountain Home-Harrison rivalry as both baseball and softball games will be played at the Equity Bank Sports complex with action also airing on 94.9 KHOZ.
Other games involving MOARK Schools Today:
Missouri
Baseball
Lake Community at Branson
Hollister at Billings
Galena at Blue Eye
Spokane at New Covenant
Hurley at Sparta
Softball
Crane at Forsyth
Hollister at Ava
Southwest at Galena
Soccer
Bolivar at Branson
Arkansas
Baseball/Softball
Mountain Home at Harrison
Cotter at Yellville-Summit
Jasper at Hector
Baseball Only
Valley Springs at Norfork
Omaha at Flippin
Softball Only
Valley Springs at Melbourne
Green Forest at Omaha
Soccer
Harrison at Greenbrier
Green Forest at Bergman
Eureka Springs at Decatur