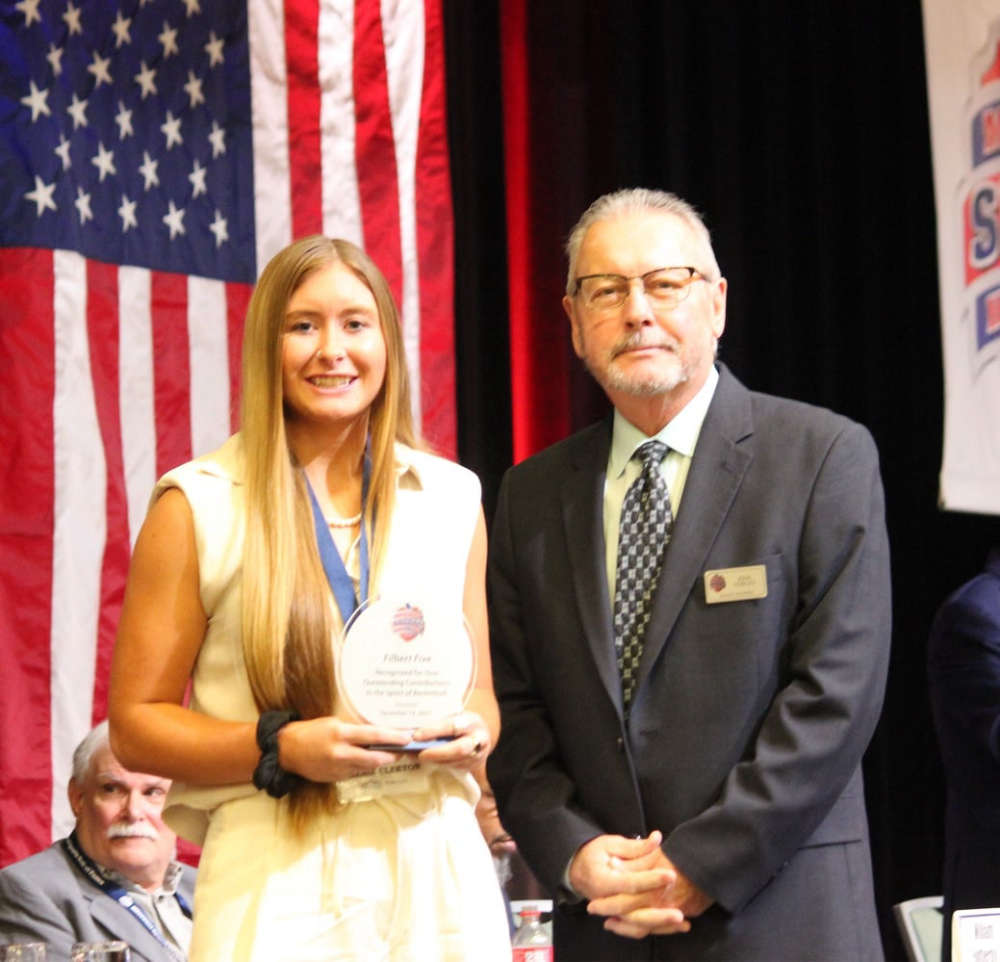 Kelsie Cleeton accepts her Filbert Five award from Chairman Kris Conley. (Photo courtesy of the Missouri Sports Hall of Fame)
The Basketball Luncheon Ceremony for the Missouri Sports Hall of Fame Tuesday included individuals and a team with a connection to the Lakes Region.
Two players who played basketball in the Lakes Region were named to the Filbert Five Women's Team.
Kelsie Cleeton, who after graduating from Springfield Hillcrest, had a four year career at College of the Ozarks setting numerous records and leading the Lady Bobcats to 118 wins. After graduation, Cleeton spent a year each as an assistant coach at Springfield Greenwood and Blue Eye and now is an assistant at Springfield Glendale.
Kyndal Clark began her High School Career in Branson as was a All-Central Ozarks Conference Player for the Lady Pirates before her family moved to Webb City, where she led the Lady Cardinals to the 2010 State Championship. Clark played College Basketball at Drake and at Nebraska.
Two of the male Filbert Five honorees played in the Central Ozark Conference, Zach Towe from Nixa and Nick Yocum of Republic.
Also honored in Tuesday's ceremony was the Evangel 2002 National Basketball Championship Team, which won the NAIA Division Two Title which was played at College of the Ozarks. Current C of O Men's Basketball Coach and Athletic Director Steve Shepherd was an Assistant Coach for Evangel at that time.