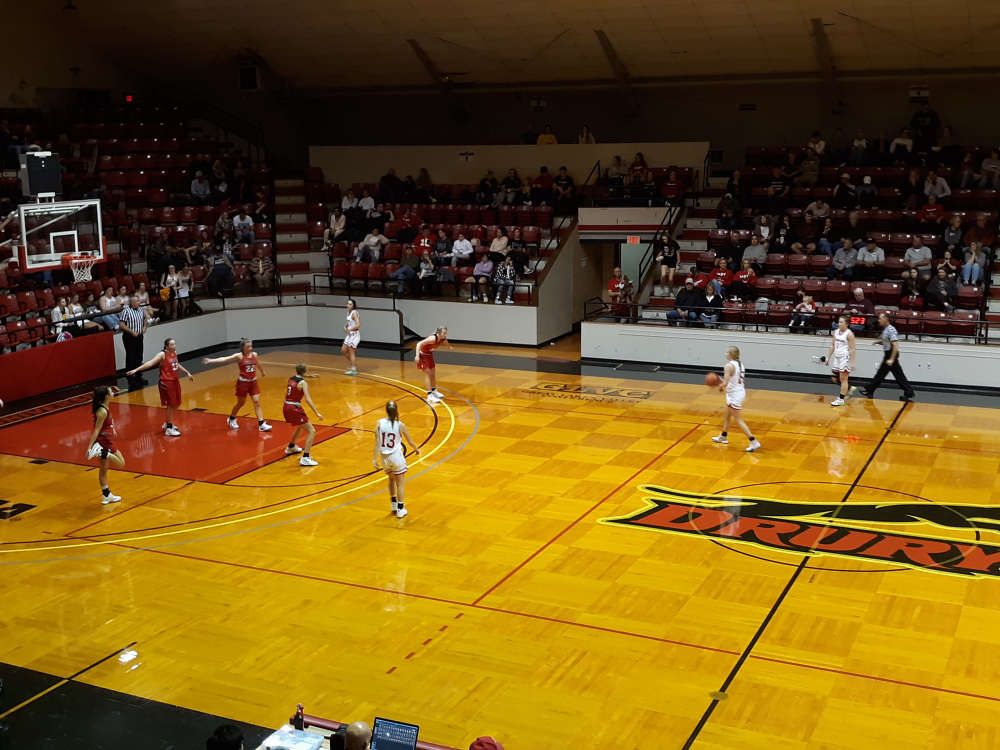 Branson vs. Aurora at the Pink and White Lady Classic (Photo by Scott McCaulley)
Several area teams had good results in Holiday Basketball Tournament Action on Monday.
In games covered by MOARK Sports, the Branson Boys and Girls as well as the Blue Eye Girls came up with wins in tournament action in Springfield while the local teams split in the opening round of the Lendel Thomas Classic in Harrison.
It was a sweep in the Pink and White Lady Classic at Drury University as Blue Eye held off Clever 70-62 while Branson rolled by Aurora 61-21. At the Boys Blue and Gold Tournament at Missouri State, Branson outlasts Mountain Grove 61-51 while Reeds Spring falls to Hartville 53-33.
At the Lendel Thomas Classic, the host Goblins roll by Earle 79-49 while Bergman loses to Springfield Hillcrest 77-67.
The schedule of games covered today at MOARK Sports Dot Com:
12:30 Branson vs. Kickapoo at the Blue and Gold (Branson Link)
12:30 Branson vs. Kickapoos at the Pink and White (Blue Eye Link and Perry Phillips Sports Dot Com)
4:30 Blue Eye vs. Nixa at Pink and White (Blue Eye Link and Perry Phillips Sports Dot Com)
7:00 Harrison vs. Bergman at Lendel Thomas Classic (Harrison Link and 94.9/AM 900 KHOZ)
In other tournament action, both Hollister and Forsyth win their second round games at the Walnut Grove Boys Tournament with the Tigers beating Fordland 65-32 and the Panthers defeating Billings 76-59. The two teams move on to the semi-finals Wednesday against Sparta and Seymour respectively. The Hollister and Sparta Girls meet in the Walnut Grove semi-finals tonight at 7:30.
Play also got underway Monday in the North Arkansas College Boys and Girls Tournament with boys results including Omaha defeating Kingston 59-52 and Valley Springs beating Alpena 79-46. In girls action, Western Grove beats Alpena 59-42 and Jasper over Shirley 52-17.