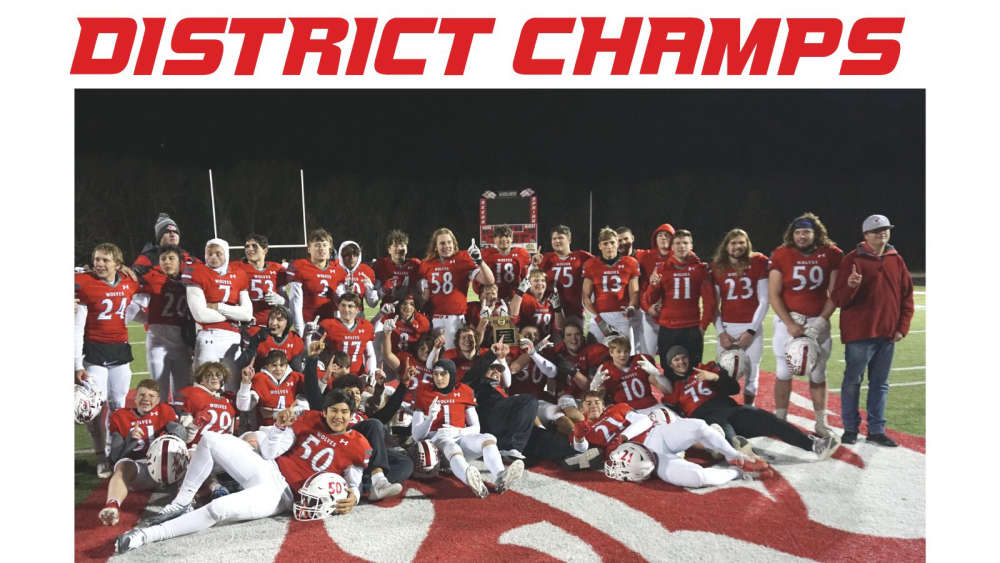 Photo courtesy Reeds Spring School District
The Reeds Spring Wolves claim their first District Championship in 25 years while the Harrison Goblins lose their playoff game in the final minute in Friday action.
Reeds Spring 35 Osage 6
The Reeds Spring Wolves trailed early, but then took control of the game and rolled to the District Championship. The Wolves were led by Preston Blubaugh who ran for 191 yards while Caden Wiest scored three touchdowns to pace the Wolves. The Wolves will travel to Booneville for the State Quarterfinals next Saturday. It will be the Wolves first football quarterfinal game since 1980.
Wynne 27 Harrison 24
A back and forth game at Wynne finally goes to the home Yellowjackets as they scored in the game's final minute to erase a deficit and then hold on to end the Goblin season. Wynne had jumped out to an early 13-0 lead by the Goblins came roaring back and took a lead early in the fourth quarter. The Yellowjackets had missed a field goal that would have tied it midway through the fourth quarter, but the defense held the Goblins to a three and out to set-up the game winning drive.
Friday Scores:
Missouri District Finals
Class 1
Marionville 46 Cabool 16
Class 2
Seneca 25 Mt Vernon 21
Lamar 56 Fair Grove 6
Liberty 42 Mountain Grove 6
Class 3
Reeds Spring 35 Osage 6
Class 4
KC Center 35 Nevada 13
West Plains 45 Bolivar 0
Class 5
Carthage 28 Republic 14
Lebanon 55 Camdenton 14
Class 6
Lee's Summit North 42 Nixa 10
Arkansas State 5A First Round
Wynne 27 Harrison 24
Batesville 28 Prairie Grove 20 OT
L.R. Parkview 29 Morrilton 7
Valley View 41 Farmington 39
Shiloh Christian 55 Nettleton 14