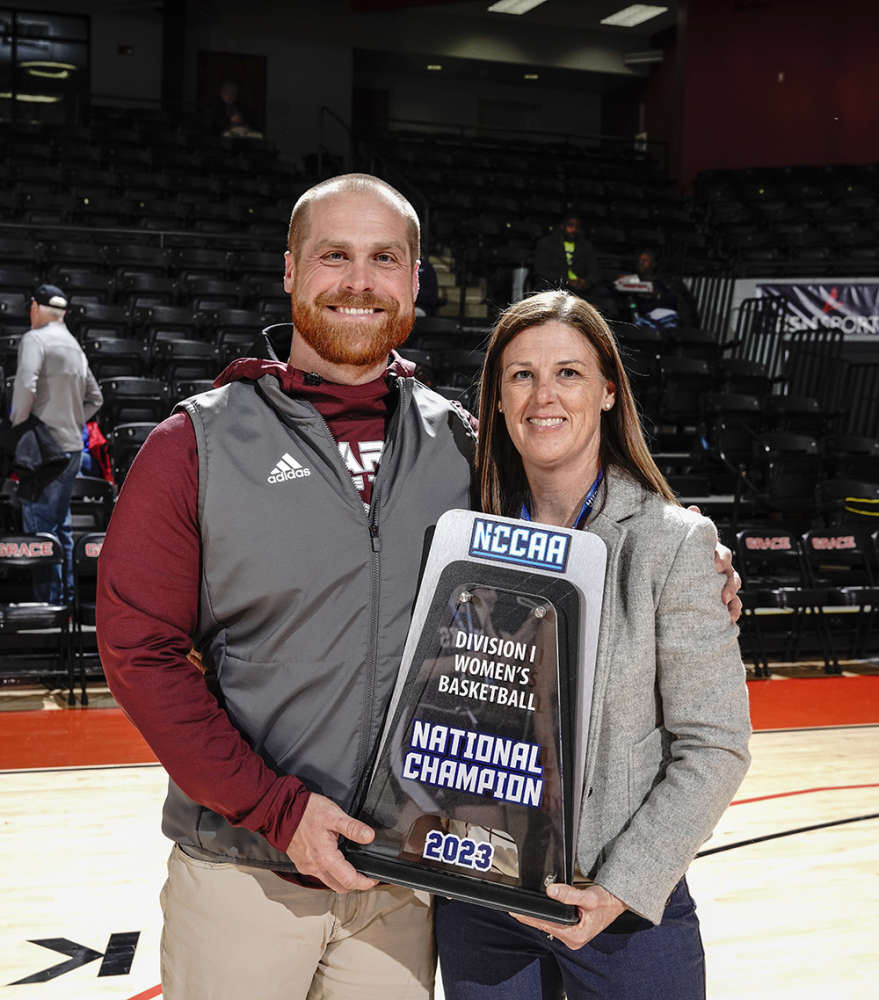 Photo courtesy College of the Ozarks
The National Christian College Athletic Association has announced their post season honors and the College of the Ozarks Lady Bobcats are well represented.
Coach Becky Mullis led the Lady Bobcats to the NCCAA Division 1 Women's Basketball National Championship and was selected as the NCCAA Division 1 Women's Basketball National Coach of the Year. Coach Mullis and the Lady Cats finished the season with a 26-5 record and winners of their final 17 consecutive games.
Mullis just completed her 10th year at the helm of the Lady Bobcats program, where she holds a record of 252-56 record, winning more 20 or more games each season of her tenure.
Mullis, as head coach and eleven-year assistant, has been instrumental in helping the Lady Bobcats become one of the top programs in the nation. During her tenure as head and assistant coach, the Lady Bobcats have compiled a 627-110 record.
In addition to this year's title, the Lady Cats have qualified for the NAIA or NCCAA national tournament each year of her tenure, where they have been an NAIA Elite Eight team ten of 15 seasons, made six trips to the Fab Four, and posted five National Championship Runner-Up finishes. In the shortened 2019-20 campaign the Lady Cats were poised to make another strong National Championship run, qualifying for the National Tournament as the fifth ranked team in the NAIA DII polls. As head coach, Mullis has coached two NAIA DII, three NCCAA DI, and two WBCA first-team All-Americans; three NAIA DII and one NCCAA DI second-team All-Americans; two NAIA DII and two NCCAA DI third-team All-Americans; and three NAIA DII and WBCA honorable mention All-Americans. In addition, she has coached 15 NAIA/NCCAA Scholar Athletes.
Her other personal accolades as head coach include being named as the Association of Independent Institutions Division II Women's Basketball Coach of the Year in 2015-16, 2017-18, 2018-19, and 2019-20 as well as the National Christian College Athletic Association Division I Women's Basketball Regional Coach of the Year in 2016-17 and 2017-18.
Along with Coach Mullis on the honors list is Lady Cat Guard Kayley Frank (Strafford, MO). Frank received NCCAA Division 1 Women's Basketball First Team All-American Honors along with being recognized as part of the NCCAA National Championship All-Tournament Team. Starting all 31 games this season, Frank was a respected threat on both ends of the floor. Leading the Lady Cats in scoring with 18.0 ppg and second in rebounding with 8.2 rpg, her versatility was evident throughout the season. Dishing out a team high 103 assists, she also found her way to the charity stripe 171 times, connecting on 78.4% of those tries. Frank recorded multiple double-double performances this season and eclipsed the 1000-point plateau during a game in the Hoops in Hawaii Holiday Classic in December.
Lady Cat senior, Jordan Wersinger (Springfield, MO) also received NCCAA National Championship Tournament All-Tournament Team honors and was named the National Championship Tournament Most Valuable Player. Wersinger had an outstanding tournament averaging 19.7 ppg to help lead the Lady Cats to the National Championship. Wersinger finished the season averaging 15.8 ppg and 3.3 rpg.
The National Championship was a collective team effort and one that all of Bobcat Nation can be proud of. Congratulations to Coach Mullis, Kayley Frank, Jordan Wersinger, and all of the Lady Bobcats.
(Release from College of the Ozarks Sports Information)