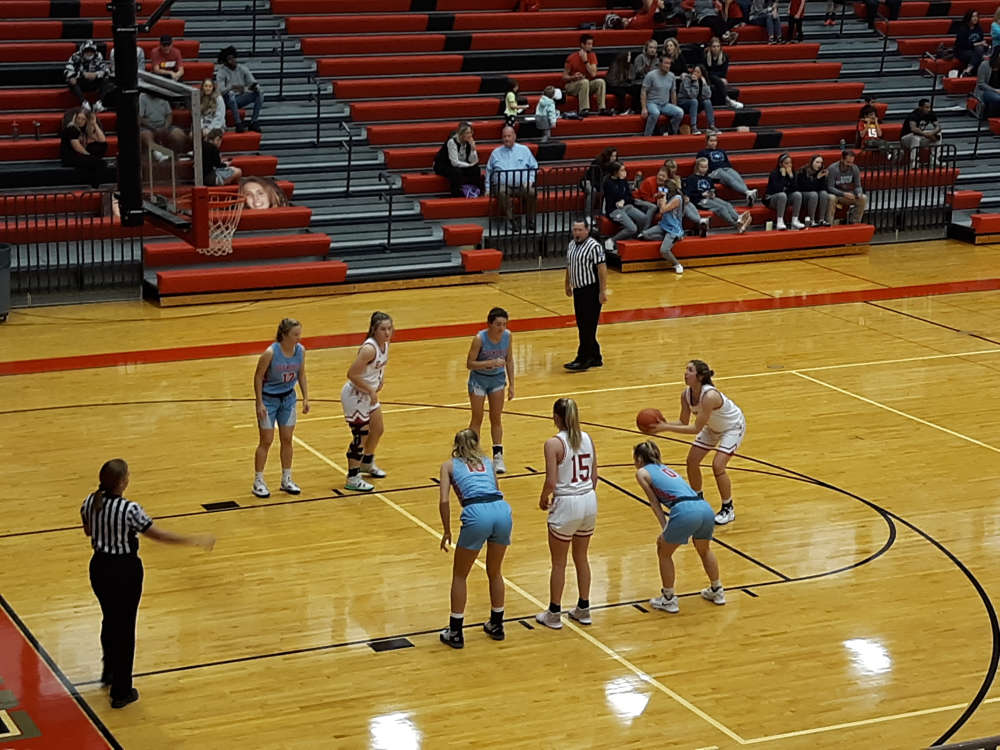 Branson's Rylie Hagston attempts a free throw in Monday's win over Glendale. (Photo by Scott McCaulley)
After a season that saw the Branson Lady Pirates Basketball team win only four games, Coach Kip Bough was hoping the experience would pay off this season. The results this season has provided a big return on that investment.
The 2021-22 Lady Pirates have already surpassed last season's win total, picking up their fifth win of the season Monday night in a 53-32 home win over Springfield Glendale. Bough said prior to the game that the experience the players got last year filling in for their injured teammates has been a big factor this season, and the win against the Lady Falcons certainly bared that out.
After the Lady Falcons had an early one point lead, the Lady Pirates went on a 13-0 run and withstood several Lady Falcons run to secure the win. Branson used a rotation of nine players most of the game to wear down a Glendale team that was missing two starters due to injuries and scheduling commitments. The Lady Pirates forced over a dozen turnovers in the first half to help build their lead.
Junior Hadley Houston, playing in her first varsity season after playing junior varsity last season after transferring from School of the Ozarks, led the Lady Pirates with 18 points while fellow junior Ellie Hoenie and sophomore Taylor Foster each added eight points. Seven players scored for Branson in the win.
The Lady Pirates swept the night's games by also winning the freshman game 55-12 and the junior varsity contest 66-28.
Branson will take their 5-1 record into their final game before Christmas, a home contest against Lebanon on Thursday.