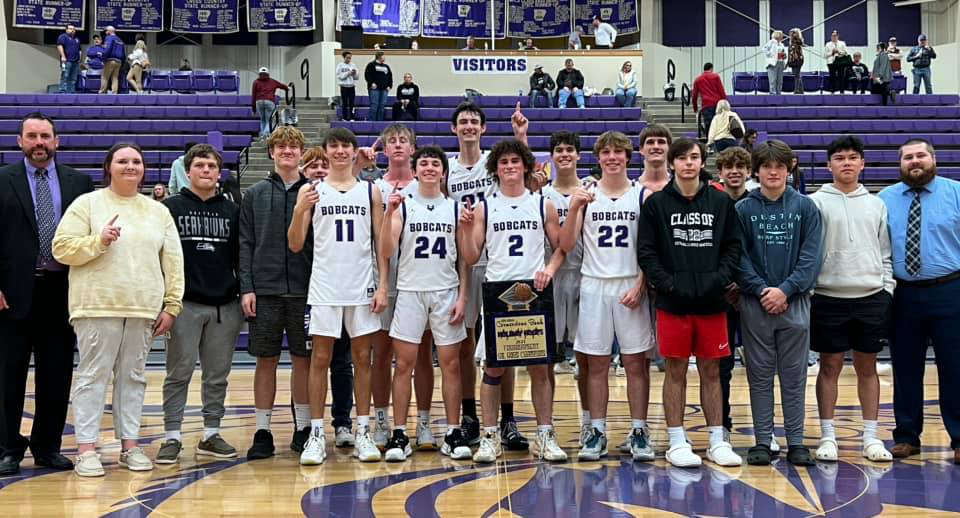 Berryville wins their Holiday Hoops Classic. (Photo from Berryville Athletic Booster Club)
The Forsyth Panthers will play Sparta in the Walnut Grove Boys Tournament Championship Game this afternoon.
The Panthers got past Seymour in the semi-finals of the tournament Wednesday night while the Trojans upended Hollister to move into today's title game. Hollister will play Seymour for third place at 1:00.
Today's Championship Game starts at 2:30 and has been added to the MOARK Sports Schedule of Games. The game link can be found on the Forsyth Page at MOARK Sports Dot Com.
A wrap-up of other tournaments:
-Hollister finishes fourth at the Walnut Grove Girls Tournament losing to Ash Grove 49-37. Miller held off Sparta in the title game 39-34.
-The host Berryville Bobcats claim the title in the Holiday Hoops Tournament with a 61-46 win over Springfield Glendale while Rector claims the Girls Championship with a win over Fordyce. The Green Forest Boys won their final game of the tournament, winning the Consolation Final over Danville 40-35.
-The Pink and White Lady Classic saw Kickapoo beat Republic 50-39 while Strafford edged West Plains 45-43 for the titles.
-Kickapoo also won one of the titles at the Blue and Gold Boys Tournament, knocking off Springfield Catholic 62-49 while Bolivar claimed the other title with a 67-50 win over Ozark.
-Reeds Spring wins the Consolation Trophy at the Southwest Tournament in Washburn with a 45-39 win over Billings. Gentry took first place with a win over Cassville.
-The North Arkansas College Tournament semi-finals Thursday saw Norfork defeat Jasper 66-31 and Clinton beating Mountain View 55-48. In the boys' games, Ozark Mountain topped Shirley 65-59 and Mountain View held off Marshall 48-46. The finals of the tournament are on Saturday at Pioneer Pavilion the Girls Game at 6:00 and the Boys Game at 7:20.
-The Bergman Lady Panthers take the title at the Hoops for Hunger Tournament, knocking off host Russellville 71-54.