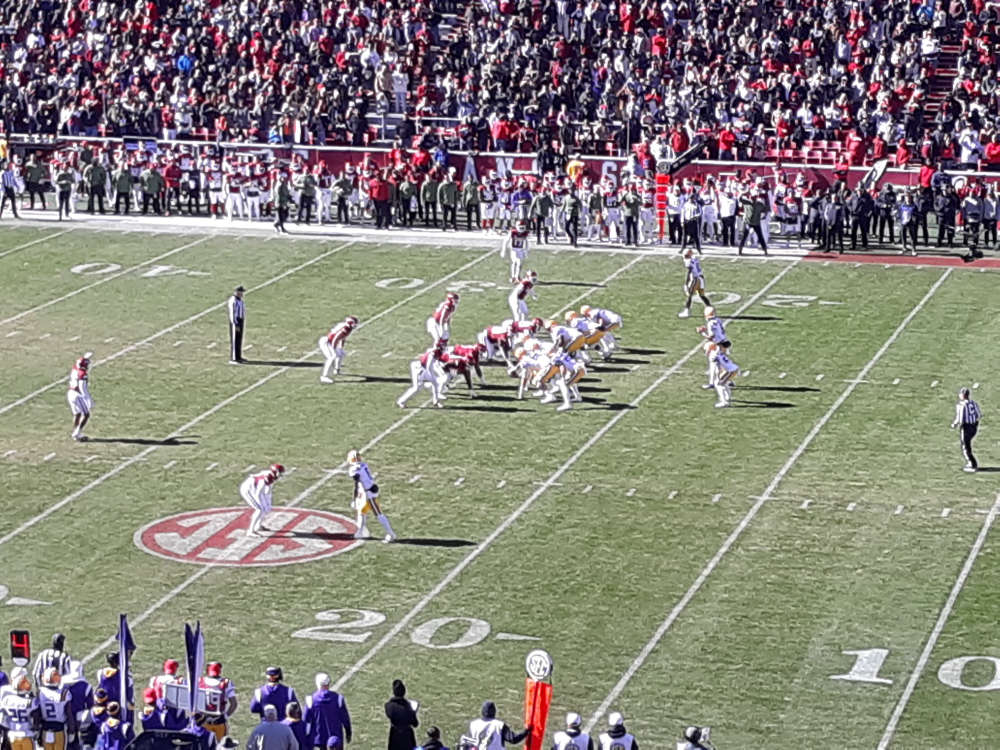 LSU goes for a fourth down play against Arkansas Saturday in Fayetteville. (Photo by Scott McCaulley)
Results from the homestretch of the College Football Season.
Bears Win Final Home Game
The Missouri State Bears, with a season that started out with high expectations before hitting a major roadblock during the middle of the season, ends their home schedule with a win over Youngstown State 25-22. Jason Shelly hit a nine-yard touchdown pass to Ty Scott in the games final eight minutes to post a come-from-behind win. The Bears defense came up with a pair of stops to hold on for their second win in three games. The Bears will wrap-up the season next Saturday at Indiana State.
Razorback Upset Bid Falls Short
On a day where Arkansas had to play without starting Quarterback KJ Jefferson who sat out due to a sore shoulder, the Hogs defense kept LSU's offense in check most of the game but came-up short in a 13-10 loss to the seventh ranked Tigers. The Razorback offense was stagnant behind back-up quarterback Malik Hornsby until third string QB Cade Fortin gave the offense a spark but it wasn't enough to overcome the Tigers. Arkansas will play their final home game next week against Ole Miss before wrapping up the season at Missouri the day after Thanksgiving.
Tennessee Rebounds, Rolls Over Missouri
The Volunteers, coming off a big showdown loss to Georgia the previous week, rebounded with a big home win over the Missouri Tigers 66-24. The Tigers kept the game close into the third quarter, trailing by only four before the fifth-ranked Volunteers scored the games final 38 points. The Tigers host New Mexico State next week before their game with the Razorbacks in Columbia.