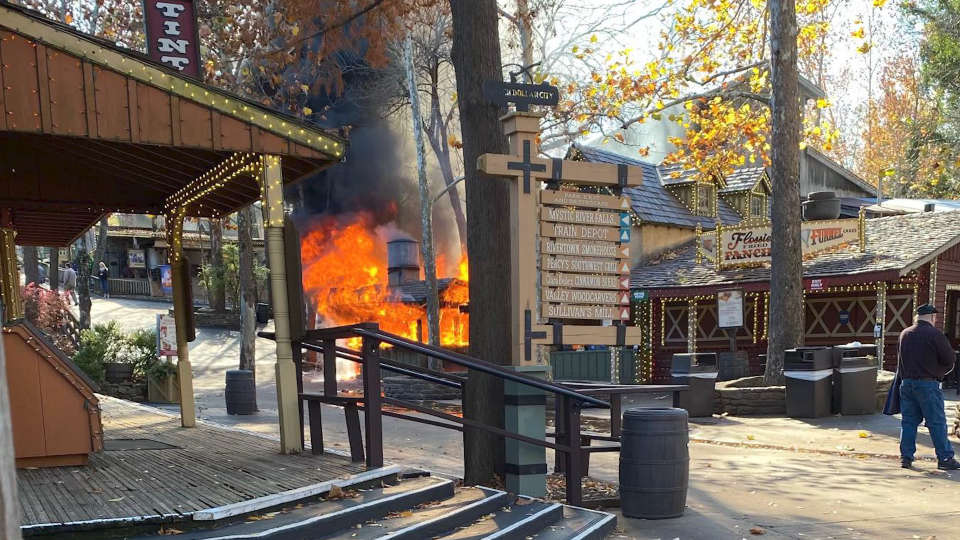 Photo courtesy Ozarks First
Silver Dollar City Officials release updated information on a fire that broke out at the park during the Noon Hour Thursday.
Officials in the release confirm that the fire was discovered in the area around Heartland Home Furnishings and Flossie's Fried Fancies located in the western portion of the park around 12:45 pm.
The release goes on to say that the fire was contained in about an hour.
According to the release, the front park of the park had opened as usual an hour prior to the gates officially opening at 1:00 but the majority of the park did not have guests on site at the time of the fire. The cause of the fire is yet to be determined.
Officials say Silver Dollar City will be open on Friday but will remain closed for the rest of day on Thursday.
The official statement from Silver Dollar City is below:
Silver Dollar City officials confirm there was a fire, discovered prior to opening, from Heartland Home Furnishings to Flossie's Fried Fancies in the lower western portion of the park. There was damage to three structures.
Southern Stone County Fire Protection District responded quickly to the fire.
The fire began at approximately 12:45pm and was contained within the hour. While the front entrance area had opened, as usual, one hour prior to the park opening, the majority of the park had no guest access.
The exact cause of the fire is still being determined.
Silver Dollar City will open tomorrow, as scheduled, but will not open today.
We thank you for your understanding.