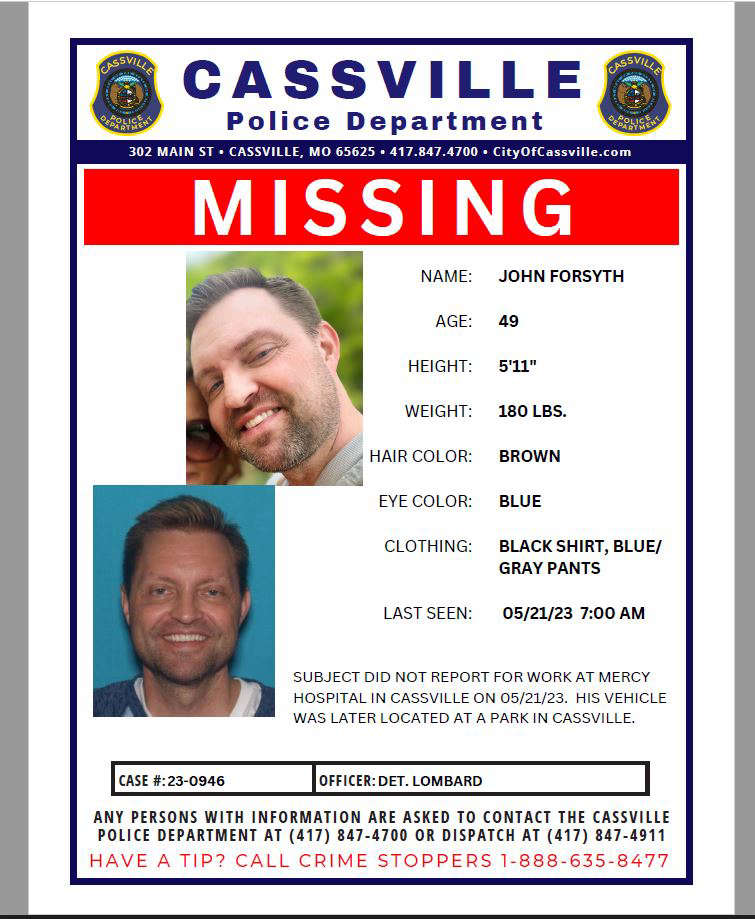 The search for a person missing from the region continues.
The story below is from Parker Padgett, Ozarks First:
Authorities continue to search for Dr. John Forsyth, a Cassville doctor, missing since Sunday.
"The latest update is this morning, we had 36 personnel from 13 different agencies varying from Cassville PD, Missouri Department of Conservation, all the area fire protection districts," Sgt. Donald Privett with Cassville Police said. "We've done a grid search of approximately 90 acres around the city park, into the woodlands, next to the city park and didn't locate anything."
Dr. Forsyth was reported missing Sunday night when he missed a shift at Mercy Cassville, something authorities and family say he's never done.
"A lot of oddities about his disappearance. And police kind of agreed after investigation that the circumstances are pretty suspicious," Richard Forsyth, John's brother said.
For family and police, there are more questions than answers.
Privett tells KOLR 10 that in his gut, he believes Forsyth is somewhere and alive.
He also says he's never seen a missing person's case of this magnitude and is not asking for extra volunteers at this time.
"Regarding this case, again, no signs of foul play at the scene of the where the vehicle was found, the same where his RV is parked beside the hospital where he stayed while he worked," Privett said.
Privett says the doctor had an RV in the Mercy lot, that he would stay in while he worked in Cassville, as Dr. Forsyth is originally from the Springfield/Republic per police.
Privett adds that there are challenges when dealing with a missing person in a small town.
"Number one, number of personnel, number of boots on the ground," Privett said. "Number two, the victim not being from the area has a lot to do with it."
Forsyth's brother says the family has been helping with the investigation.
"Some of my family members have gone down to Cassville and friends, they've gone looking around the area where he was. There has been a lot of searching around the hospital as well." Richard Forsyth said.
He adds his brother has always been good to others, whether he was working or not.
"He's a very good man. He's a very generous man, very kind man, a very patient man. He's a person who's admired by a lot of people. He's a great doctor who works very hard," Forsyth said. "He has given a lot of his free time to helping people. I've been through a lot of health issues in this last year, and he's been like a guardian angel to me."
Privett tells KOLR 10 there is a forensic examination of two phones and a laptop found in Forsyth's car.
There are plans to continue searching this week.
An email address has been set up for tips in this case. That email is FindJohn2023@gmail.com