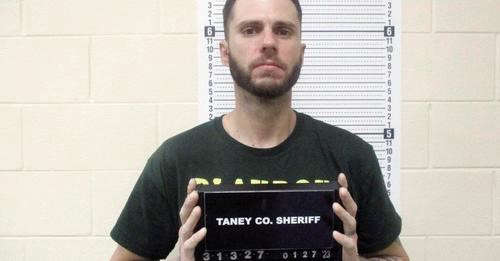 Scott Jemes (Photo courtesy Branson Tri-Lakes News)
A standoff in Hollister Thursday results in one arrest.
The full story below from Jason Wert of the Branson Tri-Lakes News:
The Hollister Police Department detained four people following a hostage situation on Thursday, Jan. 26, however, only one is in the Taney County Jail.
According to Hollister police, their officers were dispatched around 9:20 p.m. to a residence at 902 Evergreen St. over reports of a woman and a child being held against their will.
The department, along with assistance with the Taney County Special Response Team, negotiated for around an hour with those holding the woman and child in the residence before they were released unharmed to law enforcement at the same time four people were detained in connection with the incident.
Only one of the four was arrested, Scott Allen Jemes, 38, for outstanding warrants. Jemes has pending cases for 2nd degree drug trafficking and possession of a controlled substance.
Hollister Police Chief Preston Schmidt told Branson Tri-Lakes News the investigation is ongoing and no additional charges have been filed as of press time.
Chief Schmidt thanked the Taney County Sheriff's Office, the Missouri State Highway Patrol, and the Taney County Ambulance District for their assistance.