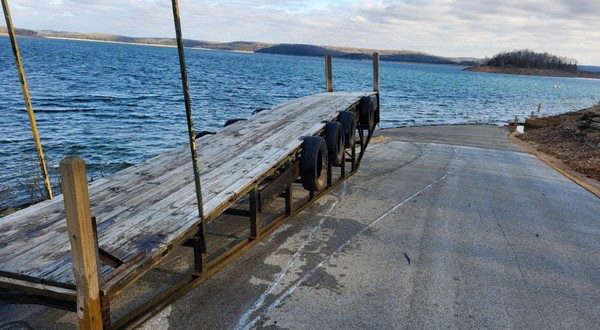 The Arkansas Game and Fish Commission has removed a courtesy dock due to the high levels of Bull Shoals Lake. Officials removed the dock at the Lakeview Access on Friday.
According to Game and Fish, the boat ramp and parking lot at the Lakeview Access become flooded when the lake level rises to an elevation of approximately 665 feet. In addition, the dock can't be installed straight due to a curve in the access road. It will be reinstalled once the lake level recedes to the boat ramp's top or rises onto the access road.
Game and Fish officials say the Lakeview Access site is still open, but boaters planning to launch will need to be mindful of underwater obstacles, including signs and guardrails, from the submerged parking lot.
Volunteers are being sought to adjust and maintain the dock. Anyone interested can contact Jeremy Risley at 870-706-0150 or jeremy.risley@agfc.ar.gov.
(Story and photo from KTLO)