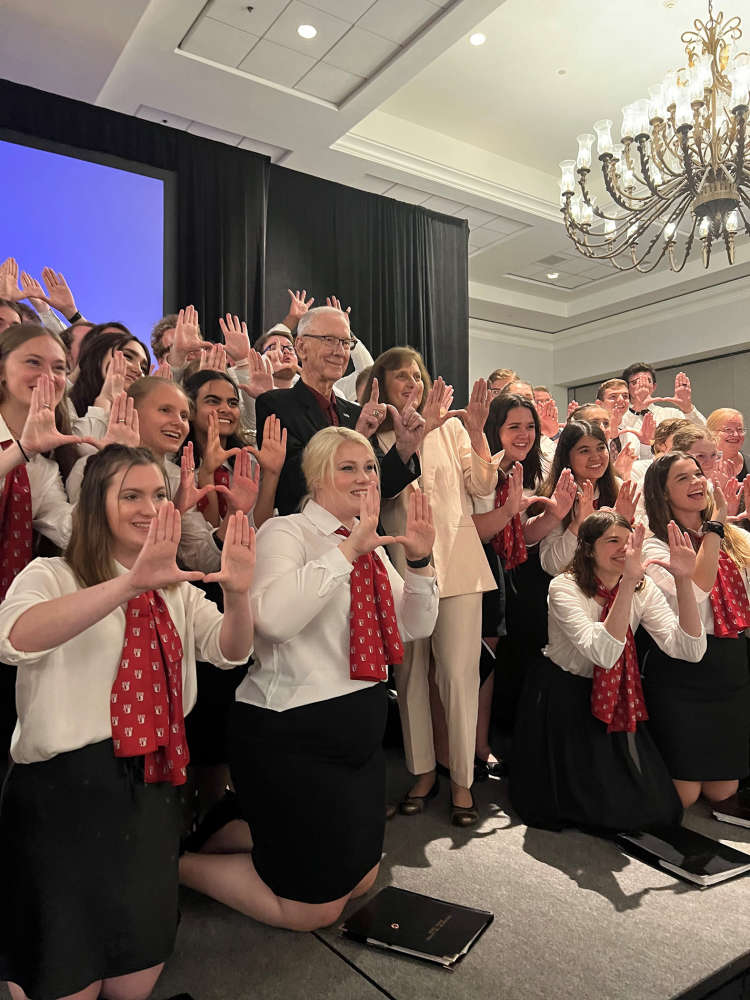 Chancellor Davis and his wife celebrate the Chapel Choir's accomplishment with the "Hard Work U" hand symbol
POINT LOOKOUT, MO. — College of the Ozarks Chapel Choir traveled to Tampa, Florida from May 25 - 29 to perform at the Vietnam Helicopter Pilot Association's 39th Annual Reunion.
The students performed a mixture of worship and patriotic songs for the Welcome Reception and for the Memorial Service. In addition to singing for the Association, Conductor Gregg Busch, Assistant Professor of Music and Theater, gave students the opportunity to personally interact with veterans and learn about their stories.
"The time of personal interaction impacted not only the Veterans, but also the students who heard their stories. Students and Veterans alike were also deeply impacted by the singing performance as they honored all those who served in the Vietnam War," Busch said.
The Vietnam Helicopter Pilot Association has assembled for 39 years in various locations within the United States to honor retired pilots who flew during the Vietnam Era (1961-1975), and those who paid the ultimate price for freedom while flying in Vietnam.
Sophomore psychology major Kutter Schulte recalled the atmosphere of thankfulness and joy in the hall as they performed.
"The veteran's displayed unending thankfulness and gratitude to Mr. Busch, the accompanists, and the choir. The spirit clearly moved during our service which made the work of rehearsing all worth it!"
In addition to the time of song and fellowship, the choir also facilitated a moment of silence and a student-led prayer. Busch used this time to "welcome home" the Veterans in attendance and thank them for serving. Veterans were deeply moved by this welcome, as some recalled that they were never thanked or welcomed when they returned from war
Sophomore Emily Lingenfelter, early childhood elementary education major, reflected on the experience: "My most memorable takeaway from the trip was getting closer to the other members of the choir. I enjoyed getting to make each other laugh and celebrate the good times as a choir community."
Prior to the COVID pandemic, the Chapel Choir had taken several trips both within the United States and internationally to celebrate events of patriotic and Christian significance. Now that COVID restrictions are beginning to lift, Busch is eager to continue taking the choir to new venues to expand their performance experiences and solidify the members' knowledge of the College of the Ozarks pillars.
Through local chapters and national conventions, the Association accomplishes its' mission "To enhance and accredit the cohesiveness, esprit de corps, and traditions of valor of rotary wing aircrews that flew in Southeast Asia during the Vietnam Era."
For more information about Vietnam Helicopter Pilot Association please visit: https://www.vhpa.org/index.htm