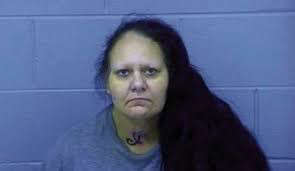 Photo courtesy Branson Tri-Lakes News
An area woman will spend eight years in Federal Prison after her conviction on Drug Charges.
According to a release from the U.S. Attorney's Missouri Eastern District Office, 47-year-old April Rulo, 47 was sentenced last week for possession of methamphetamine with intent to distribute.
Rulo admitted to possession of the meth that she had picked up from her supplier in Springfield for delivery to a location to the Wayne County community of Piedmont in southeast Missouri. Authorities were alerted by a confidential source and found Rulo with meth as well as marijuana and Hydrocodone Pills.
This case was investigated by the Southeast Missouri Drug Task Force and the Wayne County Sheriff's Department. Assistant U.S. Attorney Julie Hunter handled the prosecution for the government. The trial and sentencing took place in Federal Court in Cape Girardeau.