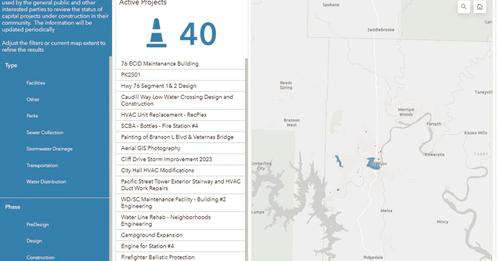 Photo courtesy City of Branson
Branson Residents can now check out updates on major projects online.
The full release below is from the City of Branson:
The City of Branson is launching a digital tool to increase transparency for citizens with the new online portal, the Capital Projects Tracker, which provides comprehensive access and key updates on infrastructure projects occurring throughout Branson.
Located on the City's main website, the newly created geographic information systems (GIS)
mapping tool gives updated access to 40-plus projects, allowing those who are interested to follow important city infrastructure projects as they progress. Details include design and construction phases, location, project schedule, cost, funding source, status and city staff contact information. For more information, please visit Bransonmo.gov/ProjectTracker .
"We are making strides in developing new systems that increase visibility on important and ongoing city infrastructure improvements and to directly share with the citizens and business communities of Branson how tax dollars are being put to work," said Cathy Stepp, Branson City Administrator. "The Capital Projects Tracker is a terrific addition as we move toward a fully interactive dashboard site for the public," said Stepp.
"I'm proud of our city's staff and leadership in launching this initiative and taking the Board of Aldermen's direction to heart in increasing transparency with our citizens and fostering innovative ways to show how our city is committed to operating at the speed of business, not the speed of government," said Branson Mayor Larry Milton. "We are more focused than ever on accountability of tax-payer dollars, enhancing community development, and making Branson the best place to live, work and play," the Mayor concluded.
Visit www.bransonmo.gov for more information on Branson and Bransonmo.gov/ProjectTracker