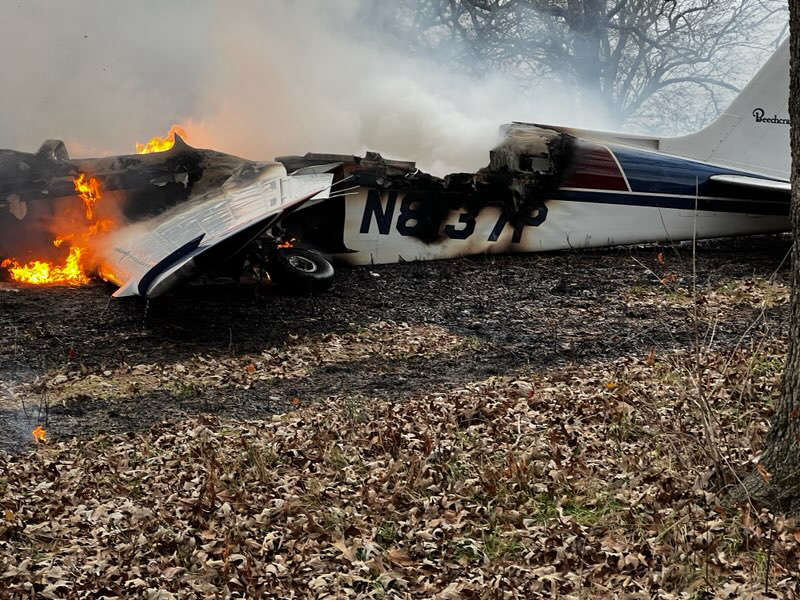 At 3:15 PM a call to 9-1-1 from residents of a Boone County Neighborhood came to the Boone County Sheriff's office with a report of a plane crash.
Officers arrived on the scene to find a Beechcraft Bonanza airplane fully engulfed in flames and the passengers nearby. Dr. Justin Cutler was the pilot and his wife the only passenger, neither suffered any injuries except for a minor scratch on the forehead.
Sheriff-elect Roy Martin was on the scene and confirmed that no one was taken to the hospital, and everyone involved escaped injury free. Both he and Airport Manager Judy McCutcheon called it a miracle.
The cause of the crash is under investigation and the National Transportation Safety Board (NTSB) is due to be in the area tomorrow morning to conduct the investigation. McCutcheon said that will consist of a visit to the crash site along with a lot of pictures, a visit with Dr. Cutler, and the mechanic that last worked on the aircraft.
McCutcheon said that Dr. Cutler reported the engine stopped for no apparent reason causing the plane to go down.
Until the NTSB conducts its investigation it is unlikely that any other details will come to light.