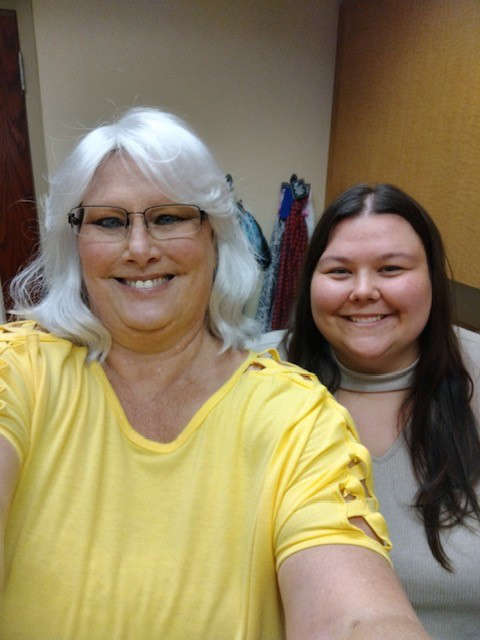 Photo courtesy of the Skaggs Foundation. Steph Townsend, left, shows off her new wig with CoxHealth patient advocate Peyton Zickefoose.
Director of Community Relations for the Skaggs Foundation Mindy Honey told Ozarks DynaCom's News Department on Wednesday that a grant from the American Cancer Society is helping them lift burdens off patients.
"We're able to help patients who otherwise would not be able to get to vital cancer treatments," Honey said. This grant offers help to patients like Steph Townsend.
According to a press release, Townsend was diagnosed with stage 4 colorectal cancer on Dec. 18, 2020. "I'd been sick, and they couldn't figure out what was wrong," Townsend said in the release. Townsend doesn't have the option to reduce travel as many people are seeking to do as a result of heightened fuel prices.
During Townsend's second bout with Covid, she couldn't seem to get over a persistent cough. Townsend was run to the hospital and informed she "had cancer in her lungs, liver and colon," according to the press release. She's been fighting cancer since then.
Townsend and her husband make the 52-minute trip from their home near Reeds Spring to Springfield to see her doctor and for chemotherapy treatments. These trips occur twice a month.
"Gas was hurting us," she said in the release. She also journeys to Branson for care four times a month. Townsend has not been able to work since she's combating cancer.
For patients like Townsend, this is where this grant comes in. The grant from the American Cancer Society "addresses transportation needs of cancer patients in Stone and Taney counties," according to the release. The American Cancer Society is helping qualified patients by providing funding for fuel cards and cab rides. This will ensure patients can arrive for treatments and doctor's appointments.
Honey told Ozarks DynaCom that this is the second grant in a year the Skaggs Foundation has received from the American Cancer Society. The result: it grants cancer patients access to life-saving care. During a phone interview, Honey said the Skaggs Foundation wishes they could remove all the pain, but that this is a way to remove some of the burdens.
Townsend is one patient seeing the burden of gas money shrink. "Without the gas cards, we couldn't make it. The trips, those are a lot of wear and tear on our car and with gas so high, we couldn't do it without the gas cards," Townsend said in the press release.
Honey provided further comment to Ozarks DynaCom. She said patients are already dealing with a lot; she said it's one thing for someone to not be able to make it to something they want to go to, but it's another thing for cancer patients to miss out on vital appointments.