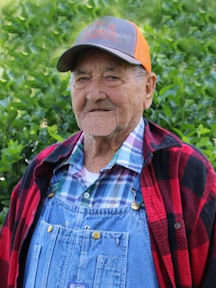 William Robert Duncan, age 90, of Cassville, Missouri.
William Robert Duncan, age 90, of Cassville, Missouri went to be with his Lord and Savior on Wednesday, September 14, 2022 at his home.
He was born November 20, 1931 at Mineral Springs, in Barry County, Missouri the son of Robert Bruce and Lillie Amanda (Starkey) Duncan. On March 21, 1956 in Mt. Vernon, Missouri he was united in marriage to Mary Marie Cowell, who preceded him in death on March 16, 2007. On November 20, 2009 he was united in marriage to Naomi Sue Owens, who preceded him in death on December 29, 2017. Also preceding him in death were his parents; two sisters, Mattie Stockton and Lena Stockton, three brothers, Thomas Duncan, George Erwin and Omah Hampton; two sons-in-law, James Bowen and Leonard Day and one great granddaughter, Mary Gamble.
Surviving are one son, Robert Lee Duncan of Cassville, Missouri; five daughters, Janice Sue Bowen of Fayetteville, Arkansas, Dorothy Lou Day of Cassville, Missouri and special friend, Doug Clark of Huntsville, Arkansas, Samantha Jane Reed and her husband Steven of Cassville, Missouri, Shirley Ann Fletcher and her husband Lou Don of Cassville, Missouri and Mary Ann Packwood and her husband Bobby of Cassville, Missouri; fourteen grandchildren; eighteen great grandchildren and one great great granddaughter.
William lived his entire life in this area and attended school at Gaddis. He owned his own business, he was a welder, a farmer and a heavy equipment operator, loved working in the hay fields and he worked the wheat harvest all over, including Kansas. William enjoyed gardening, riding the four-wheeler to the old home place and going fishing and camping. He loved playing music which is how he got the CB handle Mandolin, but most of all he loved being with his family. He loved the Lord and loved to play his mandolin in church for Him. William looked forward to seeing and drinking from that crystal clear river of life, Revelations 22:1. He was a member of Mt. Olive Baptist Church.
The family wishes to thank Phoenix Hospice, Good Shepherd Hospice, Lindsey, Dr Hanson, Dr. Cox and Mercy Hospital in Cassville for the wonderful care given to William.
Graveside services will be held at 10:00 A.M. Monday, September 19, 2022 at Mineral Springs Cemetery in Cassville, Missouri. Reverend Charles Chrisman and Pastor Kevin Hilton will conduct the services.
Visit www.fohnfuneralhome.com for online obituaries, guestbook and private condolences.