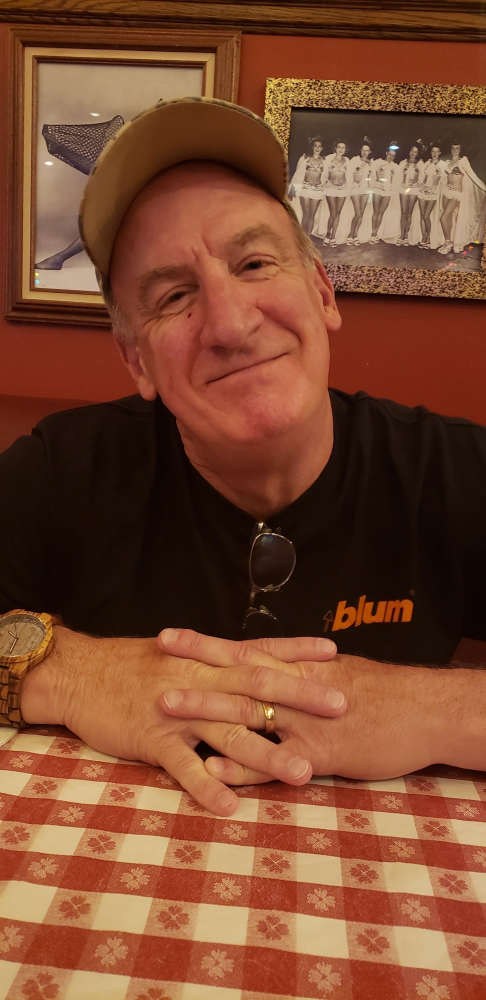 Thomas Frederick Mueller (Tom) age 63, Branson, Missouri
Thomas Frederick Mueller (Tom) passed away at home on November 14, 2022.
He was born on October 5th, 1959, to Richard Paul Mueller and Claire Elaine Mueller.

Tom graduated from Memorial High School in Tulsa. He began his college education at the University of Arkansas before transferring to Oklahoma State University, where he was a member of Sigma Nu fraternity. He played baseball for OSU and was a gifted athlete and scholar. He also attended summer school one year at the University of Hawaii, following in his mother's footsteps.
After graduating from OSU, Tom began working for his father in the furniture industry. He was a natural salesman, just like his father. He eventually went out on his own and worked on and off in China for a few years to oversee furniture production for the companies he worked for.
Tom was married to the love of his life, Sara. They got married at their favorite spot in Hot Springs, AR.
Tom, Sara and Alex moved to Branson in 2015 and created a beautiful life for their family. He loved living in Branson and found great happiness in the Ozarks. He always expressed how happy he was living in Missouri.
Tom legally adopted Alex, "Junior" as he called him. He raised Alex since he was 8 years old. He was immensely proud of him when he decided to join the Air Force.
He was charismatic, smart and funny. He exuded happiness, fun, and laughter and loved all things great and small. He was very competitive, meeting a goal was not an option, he had to exceed the goal to be good.
He traveled often for work and never met a stranger. Once you were his friend, you were his friend for life.
Tom volunteered for veterans' organizations and worked tirelessly for the JROTC at the Branson High school.
He was always studying, researching and learning about vaccines, cancer and Covid. His findings were shared almost on a daily basis with his son-in-law Josh Emert, "Ito" as he liked to call him, who he loved as a son.

Tom was a mentor to his sister Elaine's children after their father died. He dearly loved them and worked hard to teach them important life lessons. They talked and texted almost daily, and he spent as much time with them as he could.
No one will ever be able to fill his shoes.
Tom is survived by his mother Claire Mueller and his wonderful wife Sara Mueller.
Children: Alexander Garcia, Nelimarie Emert (Josh), Colby Mueller (Cynthia), Katie Smith, Allie Mueller and Amy Mueller and two grandchildren
Mother in law: Nelly Rodriguez and sister-in-law: Ivonnelly Jhaveri
Sister: Elaine Mueller Herr. Nephews: Galen Herr, Tommy Dallas Herr, Calvin Herr, Christian Herr (Casey) children Hayden and Savannah
Brothers: David Mueller (Amy) Nephew: Andrew Mueller, Nieces: Grace Vranac (Todd) and Elizabeth Mueller and youngest brother: Philip Mueller

Cousins: Cathy Mueller Deuschle, Ginny Mueller Briceland, Ann Mueller Eslick, and Fred Mueller
God-daughter, Spencer Frazier-Francis, "Pensoo" as he loved calling her since she was 2 years old. Tom was friends with her parents (Scott Frazier and Lesa Frazier Thrasher) for about 40 years, he was considered family.
Tom is preceded in death by his father Richard Mueller and brother-in-law Tom Herr.
His smile was warm, his laugh infectious and he filled the room with laughter and love.
He will be greatly missed by all who loved him.
Services will be held on Sunday, November 27, 2022 at 2:00 p.m. in Snapp-Bearden Funeral Home and Crematory, Branson.
Memorial gifts may be made to one of Tom's favorite organizations that supports American heroes, Tunnel 2 Towers Foundation at t2t.org or 2361 Hylan Blvd., Staten Island, NY 10306.
Snapp-Bearden Funeral Home and Crematory
1638 East State Highway 76
Branson, Missouri 65616
Telephone – 417-334-3670
Fax – 417-336-3670