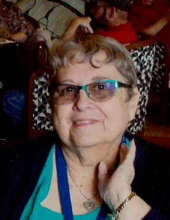 Susan Kay (Crawford) Viles, 74, of Springfield, MO.
Susan Kay (Crawford) Viles, 74, of Springfield, MO passed away on Saturday, June 18, 2022. She was born, January 29, 1948, in Springfield, MO to Chester and Dorothy (Hubbard) Crawford. She was a graduate of Republic High School where she met her husband, Richard Viles. They were married on September 23, 1967 and have been blessed with 57 years together.

Susan loved spending time with family and friends. She also enjoyed traveling with Richard. She was a leader for her daughter's Campfire Troop as well as coached a baseball team with Richard.

She is preceded in death by her parents Chester and Dorothy Crawford, in-laws Oren and Joan Viles, sister Patricia Crawford and brother-in-law Danny Viles.

Susan is survived by her husband Richard Viles, daughters Tina (Tommy) Viles, Kimberly (Dale) Shelton, Becky (Kevin) Edmonds, brother Mike Crawford, sister and brother-in-law Orilla and Larry Keys and sister-in-law Linda Viles, seven grandchildren and their spouses, 10 great grandchildren as well as nieces, nephews, cousins and other extended family and countless friends.

The family would like to thank the nurses Heidi, Ruth, Noadia and Connie from Hospice Compassus for taking wonderful care of our wife, mother, sister, and grandmother. In lieu of flowers, memorial donations may be made to Brookline Cemetery, The Alzheimer's Association or to Hospice Compassus.

A Visitation is scheduled for Wednesday, June 22, 2022, from 6 – 8 p.m. at Meadors Funeral Home in Republic. Funeral Services will be on Thursday June 23rd at 10:00 a.m. with Pastor Larry Winfree officiating, burial to follow in Brookline Cemetery.
To send flowers to the family or plant a tree in memory of Susan, please visit our floral store.