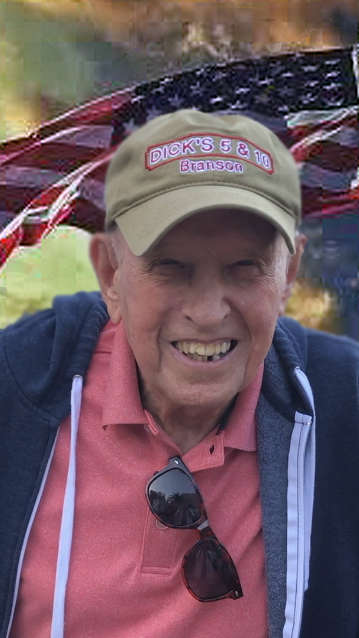 Richard Elroy Justus, age 92, of Blue Eye, Missouri.
Richard Elroy Justus, age 92, of Blue Eye, Missouri, passed away with family by his side on December 14, 2021. He entered this life on July 8, 1929, in Tillman County, Oklahoma, the son of Robert Lee and Lettie (Bennett) Justus.
He is preceded in death by his parents; granddaughter, Misty Cabelera; and grandsons: Richard Gardner and Gary Richard Cabelera. Four brothers: Robert Forrest Justus, Rubert Miriam Justus, Artie Lee Justus and Lonnie Glen Justus; and four sisters: Ruby Irene Geiger, Rutha Verline Justus, Lettie Pauline Flynn, and Fairy Pearl Nanine Justus.
Richard proudly served our country in the United States Marine Corps. He was a life-long member of the Church of Christ. Having been a general contractor throughout his working life in California, Richard was a skilled craftsman who loved his work. His skills allowed him to build homes and projects for famous stars. Richard enjoyed fishing, camping, attending car shows, and his hot toddy! At home, he enjoyed working on puzzles, the view of Table Rock Lake & all the animals, but especially the bunny rabbits. Most of all, he loved all of his family and their treasured visits. The family will cherish these moments, that have now become memories.
He is survived by his son, Michael (Patti) Richard Justus of Simi Valley, California; daughters: Cynthia (Mike) Durfee of Fair Oaks, California; Saundra (Ernesto) Hernandez of Simi Valley, California; Linda (Carl) Beels of Escondido, California; Denise (Rob) Teora of Blue Eye, Missouri; and Lisa (Jeffery) Schoch of Richmond Hill, Georgia; ten grandchildren: Danielle Graves, Sarah Justus, Megan Justus, Joshua Gardner, Bobby Gardner, Brian Wilson, Launa Wilson, Eric Beels, Andrew Cook, and
Kathryn Schoch; and several great-grandchildren; and much loved nieces, nephews and other family members.
A celebration of life will be planned in the Spring of 2022 in California. Memorial contributions in Richard's name may be made to the Veteran's Memorial Garden in Branson, Missouri. (www.veteransmemorialgarden.com) Arrangements and cremation are under the direction of Cremations of the Ozarks. To leave an online condolence, please visit www.cremationsoftheozarks.com.