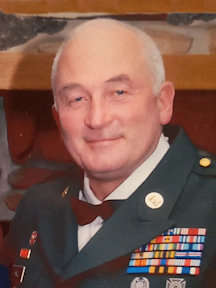 Ralph Lynn Hall, Jr., age 69, of Exeter, Missouri.
Ralph Lynn Hall, Jr., age 69, of Exeter, Missouri passed away Monday, June 13, 2022 at his home.
He was born May 7, 1953 in Detroit, Michigan the son of Ralph Lynn, Sr. and Anita (Click) Hall. In April of 1985 in Miami, Oklahoma he was united in marriage to Robbin Livingston, who preceded him in death on November 27, 2012. Also preceding him in death were his parents.
Surviving are three sons, Randall Hall and his wife Skylar of Medford, Wisconsin, Robert Hall and his wife Krissy of Landrum, South Carolina and Luke Miller and his wife Lori of Purdy, Missouri; six grandchildren with one on the way and two great grandchildren.
Ralph grew up in Pueblo, Colorado graduating from Pueblo High School. After graduating he joined the United States Air Force and served during the Vietnam War and then joined the Army National Guard as a combat engineer from where he retired with the rank of sergeant first class. While in the Army National Guard he served in Iraq, Macedonia, Germany, Central and South America and Alaska. His unit helped during Hurricane Katrina in New Orleans and during the ice storm of 2007 in Missouri. He also helped in the building of churches and schools in Central and South America and building the baseball field at Exeter. His unit won awards as the best unit. Some favorite pastimes were woodworking, home improvement shows and old TV programs. Family and military were the most important things in his life, he loved them both.
Memorial services will be held at 10:00 A.M. Monday, June 20, 2022 at Fohn Funeral Home in Cassville. Brother Tony Ball will conduct the services. Burial with military honors will be at Monett IOOF Cemetery in Monett.
Visit www.fohnfuneralhome.com for online obituaries, guestbook and private condolences.