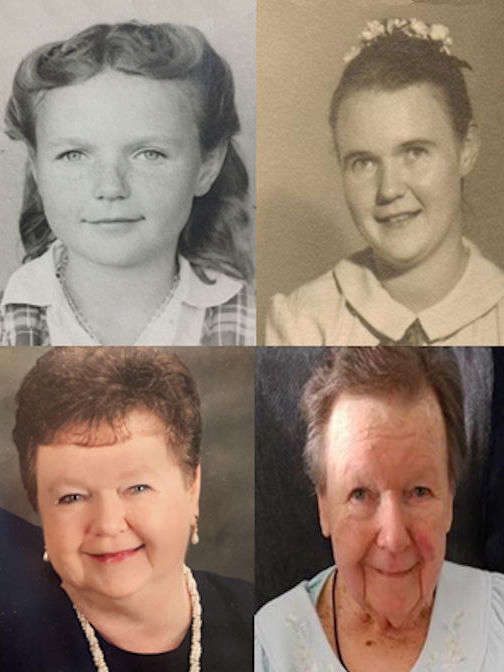 Octava "Marie" (Tittle) Reid, 85, of Cassville, MO.
Octava "Marie" (Tittle) Reid, 85, of Cassville, MO passed away on January 26th in Dripping Springs, TX where she had been living with her daughter, Karen, for the past five years.
Marie was born in Cloud Chief, Oklahoma to Ezra and Edlee Tittle, the oldest of their five daughters. In early 1952, she was a youth leader in her church when she met Johnny O. Reid, a traveling evangelist preaching at her church's revival. It was "love at first sight"! They corresponded through mail for several months and then, after only seeing each other during that revival, they were married in December of 1952…he was seventeen and she was sixteen! When Johnny passed away in 2012, they had been married 59 years.
Johnny and Marie lived in several places in Kansas and Texas before settling their family into Cassville, Missouri in 1968. They opened "Reid Hardware" on the square in Cassville, and Marie later opened the "Dippity Dip" ice cream parlor across from the school and "Cook Paints" downtown on the square. Johnny and Marie were engrained in Cassville's community through their businesses, their church, and the friends and activities of their four children who all graduated from CHS.
Marie was beautiful, funny, and a very loving wife, mother, and friend. Her love and devotion to God was always apparent in her actions and attitude. She was a leader in several bible study groups over the years and a fountain of sage advice and wisdom based in biblical truths. She was a great seamstress and for several years Marie made and donated dozens of beautiful Easter dresses for young girls in need in the area.
Marie is preceded in death by her husband, Johnny Reid; her eldest son John Reid; her eldest daughter, Jan Smith; her "honorary daughter," Chloe Epperly; her parents, (Ezra and Edlee Tittle) and three of her four sisters, Janice Williams, Gwen Meier and Linda Pelzel. What a wonderful reunion in heaven!
She is survived by John's family, Susan (Reid) Woodall of Florida and their children, John W. (Sharon) Reid and their two children, John Ezra and Norah, Sarah Reid, and Brienne (Jessi) Reid who all reside in Illinois. Jan's surviving family includes her husband, Jim Smith, Anna (Dave) Barrett and their four children, Katie, Zach, Zain, and Zander, and Misha (Andrew) Good, all in Missouri. Survivors also include her daughter, Karen (Rudy) LaBombarda who along with their two sons, Andrew and Jacob, live in Texas and their daughters, Alexa & Lauren, who live in Kansas and Maryland respectively. Marie's "honorary daughter," Dana (Chip) Kammerlohr and a son, Steve (Thelma) Reid who resides in Missouri. His children, Alex (Chris) and Ashley Reid, live in Texas. Her four children, eleven grandchildren, and seven great-grandchildren were the greatest lights of her life. Her one surviving sister, Sondra Carson, resides in Arkansas.
A memorial service will be held at 1:00 P.M. Saturday, May 14, 2022 at Fohn Funeral Home in Cassville. Pastor Rick Cooper will conduct the services. Burial will be at Oak Hill Cemetery in Cassville.
Visit www.fohnfuneralhome.com for online obituaries, guestbook and private condolences.