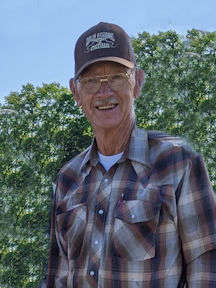 Gilbert Clay Stubblefield, age 80, of Cassville, Missouri.
Gilbert Clay Stubblefield, age 80, of Cassville, Missouri passed away Monday, June 20, 2022 at Washington Regional Medical Center in Fayetteville, Arkansas.
He was born July 19, 1941 in Cassville, Missouri the son of Albert and Ruby (Anderson) Stubblefield. On December 31, 1971 in Butterfield, Missouri he was united in marriage to Betty Jo Hyde, who survives. Also surviving are one son, Matthew Clay Stubblefield of Cassville, Missouri; one daughter, Heather Kay Carter and her husband Chris of Harrison, Arkansas; one sister, Allene Brock of Cassville, Missouri; four grandchildren, Lexi Jo Stubblefield, Lilly Joann Carter, Brantley Clay Stubblefield and Bolton Matthew Stubblefield; one niece, Susan Lane and three nephews, Jeffery Stubblefield, Joe Stubblefield and Dustin Stubblefield.
Preceding him in death were his parents; two sons, Alan Lee Stubblefield and Michael Joe Stubblefield and one brother, Allen Stubblefield.
Gilbert grew up in Cassville, Missouri. He attended grade school at Pasley School and graduated from Cassville High School. After graduating he was drafted into the United States Army where he served during the Korean War. He was a crop farmer and raised cattle, which he enjoyed. Some of his favorite things to do were roping at rodeos, especially the ranch rodeos and watch his children, Heather and Matthew compete in their rodeo events. He was a member of First Baptist Church in Cassville.
Services will be held at 2:00 P.M. Friday, June 24, 2022 at Fohn Funeral Home in Cassville. Pastor James Weaver will conduct the services. Burial with military honors will be at Corinth Cemetery in Cassville.
The family will receive friends from 6:00 until 7:00 P.M. Thursday at First Baptist Church in Cassville.
Contributions may be made to The Children's Department at First Baptist Church in Cassville in memory of Gilbert.
Visit www.fohnfuneralhome.com for online obituaries, guestbook and private condolences.