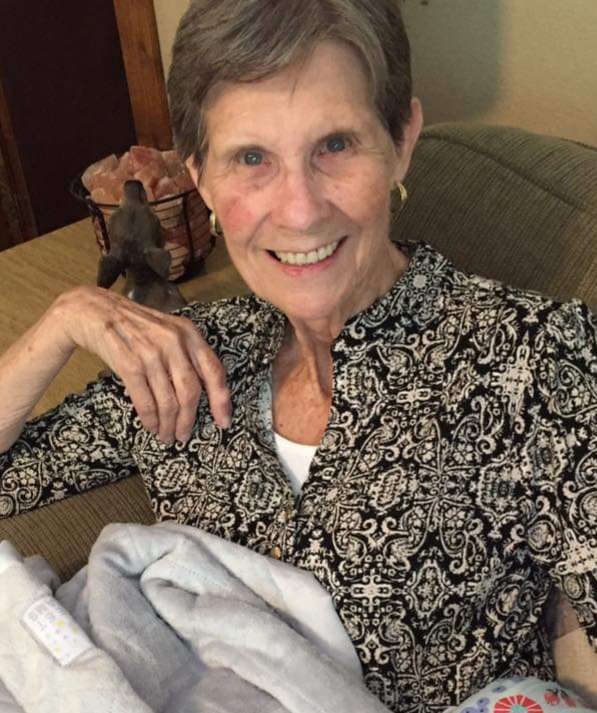 Loving wife and mother, Carol 'Joann' Spragg, passed away on June 12, 2022 in Wedgewood Gardens after suffering from Dementia. Joann was 89 just shy of her 90th and was surrounded by many loving family members when she passed.
Joann, was born to Louis and Jessie Smith on July 8th, 1932 in Fort Scott Kansas. She attended school in both Fort Scott and also Pittsburg KS. After graduation she went to Chicago to marry Melvin Spragg on January 27, 1952 where she sent him off to serve our country in the Army. After the service they moved to California where they raised their five children. Joann and her husband 'Mel' moved to Cape Fair after retiring in the 1980's where they were active in many clubs and community events. She was an active member with the Homemakers and also the Quilters. She had a passion for sewing and quilting.
After their children were in school Joann began to work at Sherwin Williams as a secretary, where she later retired. She was passionate about painting her house and re-arranging her furniture her family never knew what to expect when stopping by to visit.
Now that Joann has passed into the arms of our Lord, we should remind ourselves that while this is the end of Joann's physical life on Earth, it's the beginning of an eternal and beautiful journey for her. Joann joins her family in Heaven. She is survived by many loving family members. Joann is preceded in death by her husband Mel of over 50 years, her parents, Louis and Jessie Smith, her sister, Norma, and her brother Fred.
Joann is survived by her children, Debbie Guido, Sons Gary (Lisa), Robert (Donna), Michael, Richard (sis); 15 grandchildren and 27 great-grandchildren. There are many family members. Our apologies if we have forgotten anyone.
There will be a Celebration of Life on July 9th, 2022 at Ivy Jeans in Cape Fair from 3-6 with a tribute at 3:30 and food to follow. Hope to see you there.
"He was pierced because of our rebellions and crushed because of our crimes. He bore the punishment that made us whole; by his wounds we are healed." - Isaiah 53:5
Cremation is under the direction of the Kissee-Schofield-Eakins Funeral Home, Forsyth, Mo.