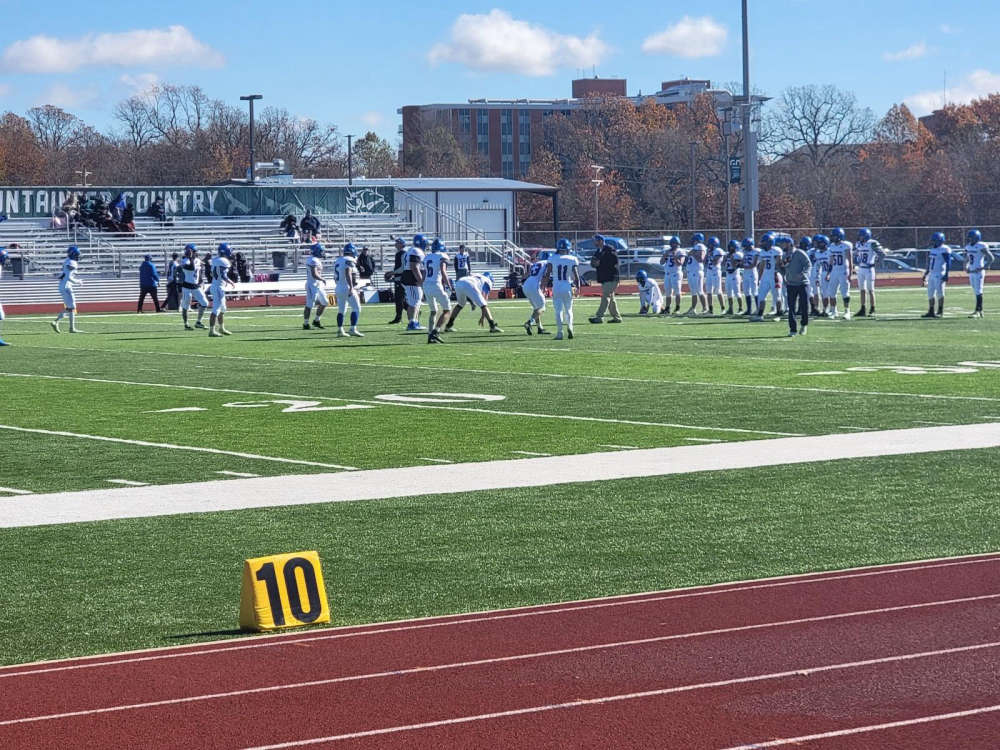 Forsyth warms up prior to their Class 2 Playoff Game at Mount Vernon (Photo by Kevin Russell)
After storms forced delays in four area games Friday night, the Lakes Area Schools split the four games in Saturday action.
The one game that started last night ended up wrapping up Saturday afternoon with a close win for the Reeds Spring Wolves over Cassville 14-7. The Wolves had a 7-0 lead with the Wildcats close to scoring when the game was called due to the approaching storms at Carl Langley Field Friday.
The Wildcats did indeed score after a couple of plays when the game resumed in the second quarter Saturday, then the schools fought it out with each team forcing several turnovers. The Wolves were finally able to put a drive together capping it off with a Preston Blubaugh 6 yard run with around eight minutes left in the game to get the final margin, though the Wolves had to make a couple of late stands forcing a pair of turnovers to hold on for the win. Blubaugh ended up rushing for 168 yards and scored both Wolves touchdowns.
The Wolves will host Osage in the Class 3 District Championship Game on Friday at Carl Langley Field.
Meanwhile, the Harrison Goblins started their game Saturday morning against Pea Ridge with a path to a number two seed and a home game in the upcoming 5A Playoffs if they won big and Farmington got a big win at home against Prairie Grove. The Goblins did their part, running out to a 41-7 win, but Farmington lost a big lead to Prairie Grove but still held on for a 41-40 win. The point differential means the Goblins will hit the road to Wynne for the opening of the 5A State Playoffs next Friday.
The season came to an end for two other schools, as Hollister and Forsyth both lost on the road to the top two seeds in the Class 2 District, the Tigers to Seneca 42-0, the Panthers to Mount Vernon 42-15