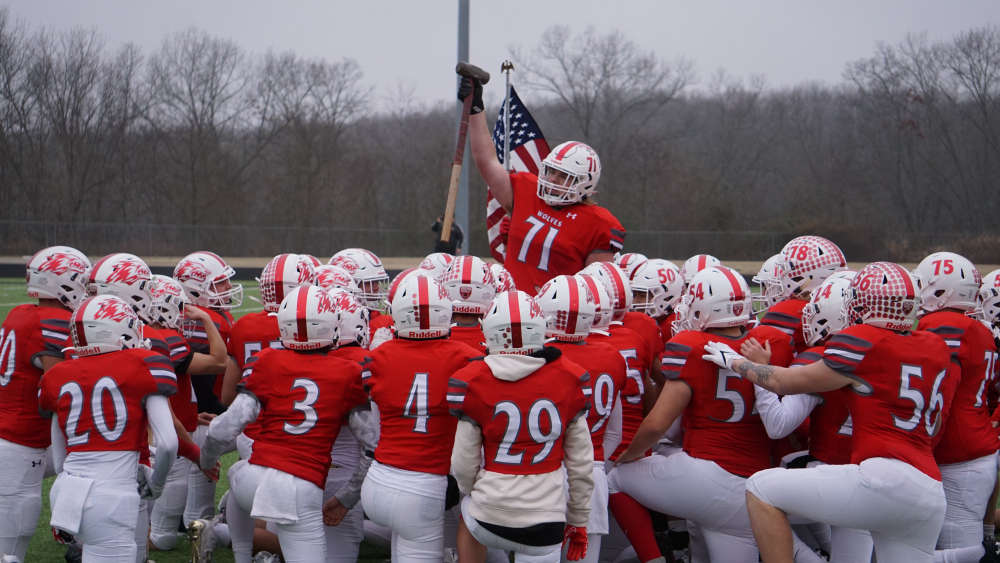 Reeds Spring Players gather on the field after their Saturday Semi-final win over Sullivan. (Photo courtesy Reeds Spring School District)
The Reeds Spring Wolves are heading to the Class 3 State Football Championship Game!
The Wolves pulled away to grab a 49-20 over visiting Sullivan in front of an estimated crowd of over 2000 people at Carl Langley Field.
The Eagles got the first score of the game but Reeds Spring quickly answered as the two teams battled for the rest of the half. The Wolves got a late second quarter touchdown to lead 21-14 at half. Each team scored early in the third quarter, but the Wolves took off from there with a kick-off return and a fumble return for touchdowns to secure the win outscoring the Eagles 28-6 in the second half.
Preston Blubaugh rushed for 117 yards while James Dowdy caught seven passes for 228 yards and a pair of touchdowns plus a kick-off return for a touchdown. Adam Lewis got the Wolves defense a touchdown with the fumble recovery return in the third quarter.
The win not only sends the Wolves to their first ever State Championship Game, but sets a new record for number of football wins in a season as Reeds Spring is now 11-2 for the season.
The Wolves will take on Cardinal Ritter in the Class 3 State Championship Game next Saturday at 11:00 am at the University of Missouri in Columbia.
Other Games involving Southwest Missouri Teams:
The Big Eight Conference knew they would have one team playing for a state championship as conference members Lamar and Seneca were playing against each other in a Class 2 semi-final at Lamar. The host Cardinals avenged an earlier loss to the Indians rolling to a 49-14 win to advance to the Class 2 State Championship on Friday also in Columbia.
The other two area teams lost, Carthage in Class 5 to Francis Howell 35-13 while West Plains lost in Class 4 42-14 to St. Dominic.