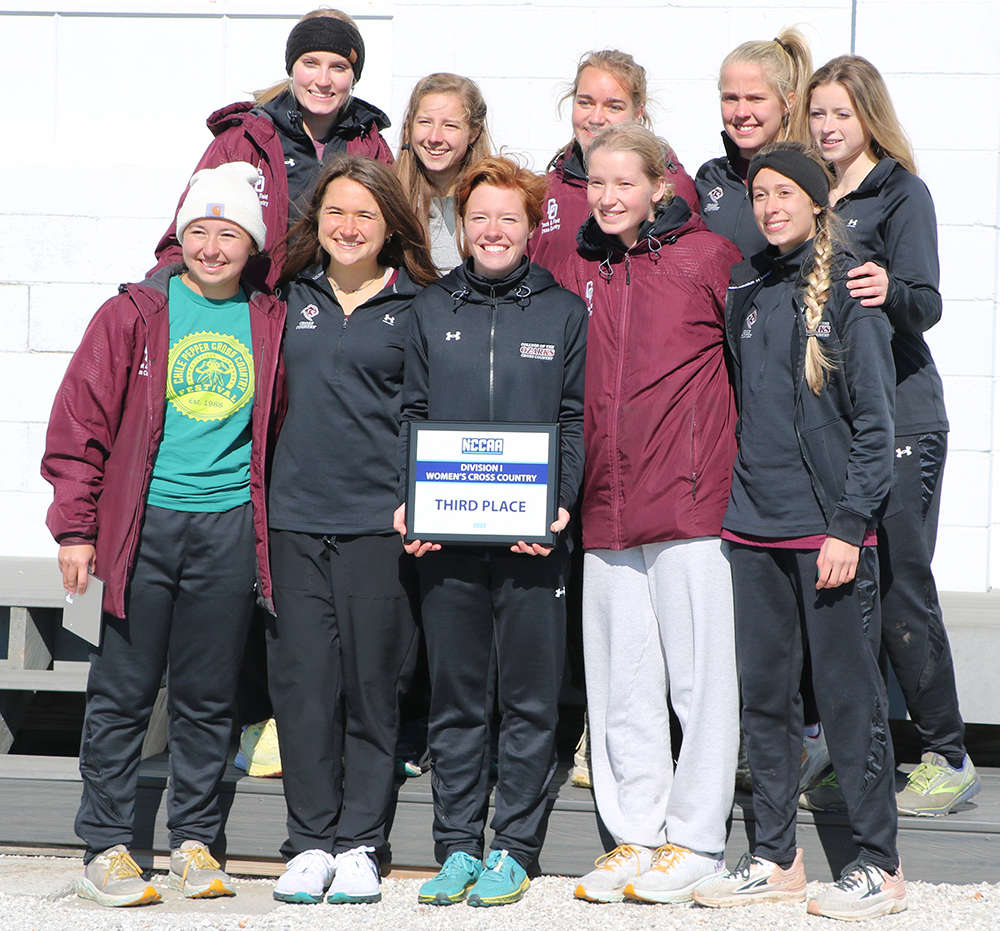 The College of the Ozarks Women's Cross Country Program takes 3rd in the NCCAA National Meet. (Photo from C of O Sports Information)
The College of the Ozarks Cross Country teams finished competition last weekend in the NCCAA Cross Country Championships in Joplin.
The complete release from C of O Sports Information is below:
On a cold and windy Friday morning, the Bobcat and Lady Cat Cross Country teams took to the NCCAA Nationals course in Joplin Missouri. With hopes of a national championship, both teams had worked hard and prepared through the season for the culminating event. Not having had the kind of weather they faced Friday, there would be a new challenge as the races began.
The Women's 5k National Championship was set to begin at 9 AM and the winds and temperatures showed no signs of favorable change. With seven Lady Cats competing, they were looking for a strong showing both as a team and individually. From the opening gun, Abigayle Money and Emily Staal set a solid pace and stayed near the front of the pack. With a final push at the finish, Money crossed the line with a personal best time of 18:35.6 and a fifth-place finish. Stall finished right on her heals in sixth place with her time of 18:44.5. With both runners crossing the line in the top ten, they achieved All-American status and were presented plaques during the awards ceremony. Rebecca Loya finished 18th with her time of 19:45.3, and teammates Janelle Staal(19:54.0), Trinity Sadosky(20:09.4), and Lauren Cowden(20:23.1), finished just behind her. Brooklyn Sederwall returned from injury to compete in the final race of her career and finished with a time of 23:58.5.
The Lady Cat combined time of 137.09 was their best time of the season and clinched a third-place finish in the NCCAA Division I Women's National Championship.
The men's 8k race was set to begin at 10:45 and conditions had only slightly improved. With the sun now shining, the athletes were prepared to compete for a national title. Freshman Bobcat, Tanner Bailey started in the front pack of runners and maintained his position until late in the race. Three runners from Grace College finished ahead of Bailey, along with a runner from Asbury. Bailey's time of 25:47.3 put him in fifth-place, good for All-American status. Janvier Irakoze turned in a solid time of 26:22.4 and just missed medaling by three tenths of a second. Cole Chaffin(28:03.5), Drew Rose(28:10.6), Daniel Chupp(28:18.1), Ethan Lollman(29:05.6), and Logan Fraker(29.08.5) rounded out the Bobcat times and their total placed them fifth in the nation.
Both the Bobcats and the Lady Cats overcame the difficult conditions, and several turned in personal best times. With Abigayle Money, Emily Staal, and Tanner Bailey bringing home All-American honors, the Bobcats and Lady Cats have plenty to be proud of and also have a solid foundation on which to build in the future.