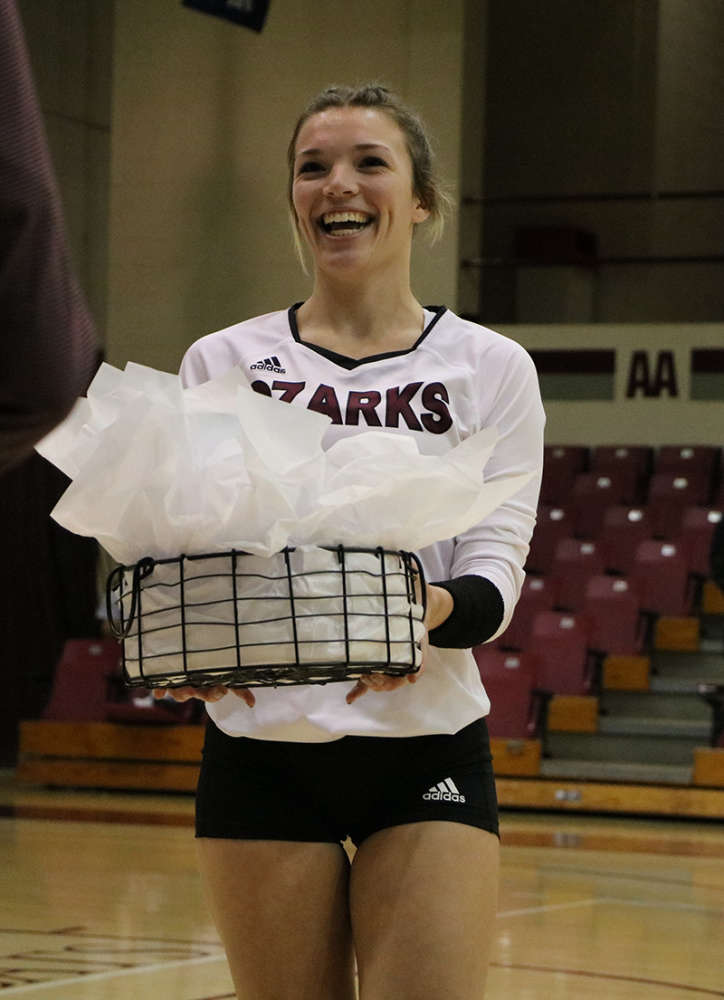 Riley Thixton. (Photo courtesy College of the Ozarks Sports Information)
The College of the Ozarks Lady Bobcat volleyball team played host to the NCCAA Central Region Tournament Thursday at Keeter Gymnasium while also honoring senior Ryley Thixton.
Information provided by College of the Ozarks Sports Information:
The tournament featured three teams, with an automatic National Tournament bid on the line. Mid-America Christian University came in with the top seed and drew a bye to advance to the Regional Championship. The Warriors of Sterling College qualified as the number two seed and College of the Ozarks was the three seed to round out the field.
The Lady Cats and the Warriors opened play in the first match of the day. After a long gap in the schedule, the Lady Cats had some rust to shake off in the early going of the match as Sterling was able to roll to a 25-15 first game win. The Lady Bobcats rallied however to take the next three games and the match, holding off several Warrior rallies to win 25-22, 25-21, 25-21.
The Lady Cats were led by Thixton's 16 kills. Abi Menzies and Brooklyn Crawford each added 12, and Bailey Chamberlain chipped in nine. Morgan Austin contributed 44 assists and Mica Chadwell paced the defense with 30 digs. Leatha Keller contributed 16 digs, Ryley Thixton added 14, and Morgan Austin tacked on 13.
After the exciting win over Sterling College, the Lady Cats were set to face off against the talented number one seed, Mid-America Christian. The Evangels stepped up early to defend their top seed and did so winning the match in straight sets 25-14, 25-18, 25-10.
The Lady Cats were led by Crawford's seven kills followed by Menzies with six. Austin contributed 19 assists and Chadwell led the defensive effort with 21 digs.
The Lady Cats also recognized senior Ryley Thixton prior to the match for her contributions to the College of the Ozarks Volleyball program over her career. Ryley is an outside hitter from Ozark, Missouri and is the daughter of Chris and Libby Thixton. She has been a 4-year starter for the Lady Cats.
The Lady Cats will be back in action December 2-4 in the NCCAA DI Women's Volleyball National Championship Tournament, hosted by the College of the Ozarks.