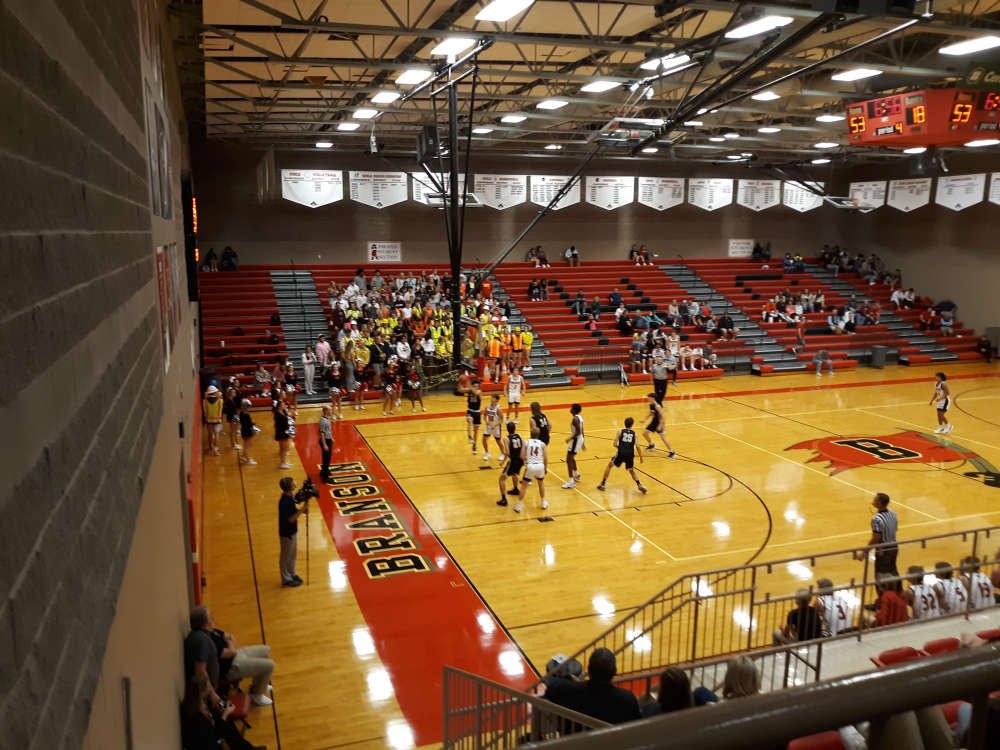 Branson Boys Basketball Opens the 2021-22 Season with a home win over Lebanon.
Branson Boys Basketball Coach Mike Linehan said prior to their Season Opening Game against Lebanon that he felt the fact that his team was healthy coming into the season would help them start fast. The Pirates proved their coach right Tuesday night as they raced out to a big lead and cruised to a 59-25 win over the visiting Yellow Jackets.
After an early 2-2 tie, the Pirates dominated the rest of the quarter outscoring Lebanon 16-2. The Pirates also held the Yellow Jackets to four total points in the second quarter to gain a 31-8 halftime advantage. While the Pirate defense forced 12 turnovers in the first half, the offense converted many of those turnovers into points with Cade Goodwin scoring 10 of his 12 points for the game in the first half. Kyle Scharbrough and Ethan Davis picked up the scoring in the second half, leading the Pirates with 15 and 14 points respectively.
The Branson Lady Pirates, who won their opening game of the season Monday at Springfield Central, will join the Boys Team in co-hosting the Branson at the Battle Classic for their next action December 2-4. Lake Hamilton and Mountain Home from Arkansas will join join Mount Vernon and the host teams from Missouri in the round robin event. The Branson Games will be against Lake Hamilton on the 2nd, Mount Vernon on the 3rd, and Mountain Home on the 4th.